With more than 100,000 students now studying Chinese, France is the pioneer of Chinese learning in all of Europe, said educator Joel Bellassen in an exclusive interview with China Daily.
Bellassen is the first Inspector of Chinese Teaching in France, the first PhD instructor in Chinese teaching methodology in Europe, and also the founder and the first president of the Association for Chinese Teachers in France.
France has a long history of Chinese learning, he said, much longer than many people think. "France was the first country in Europe to have Chinese courses," he explained. "Many people know there are 16 Confucius Institutes in France but rarely know that 200 years ago the French already started to teach Chinese in the College of France."
In 1843, the National Institute of Oriental Language and Civilization in Paris made Chinese one of its taught languages, while a high school near Paris first introduced Chinese in its coursework in 1958, Bellassen said.
He said the size of the Chinese teacher group is also expanding. There were only three Chinese teaching assistants in 1985, but the number climbed to 61 in 2011.
If you close your eyes and just listen to Bellassen speak Chinese, you would consider him a native speaker. When he started learning the language in 1969, he was called "Chinese" by his friends because it was rare at that time. When he graduated from university in 1972, Chinese language offered few prospects, so he even considered giving up.
But he was lucky to be selected by the government in the first array of French students to come to China. When he returned home, he started to teach and popularize the language in France.
"In 1999, Chinese was the ninth-most popular foreign language in France, but it became the fifth in 2007," he said.
Many parents want their children to learn Chinese in primary and middle school because they believe the language will offer an advantage in their children's' future.
He said that today Chinese courses have deeply penetrated from primary to high school.
The number of primary schools with Chinese classes has increased to 30 where about 4,000 students are learning Chinese at the moment.
More than 600 middle and high schools have set up Chinese classes, while the number of students studying Chinese at universities has surpassed 20,000, he said.
tuoyannan@chinadaily.com.cn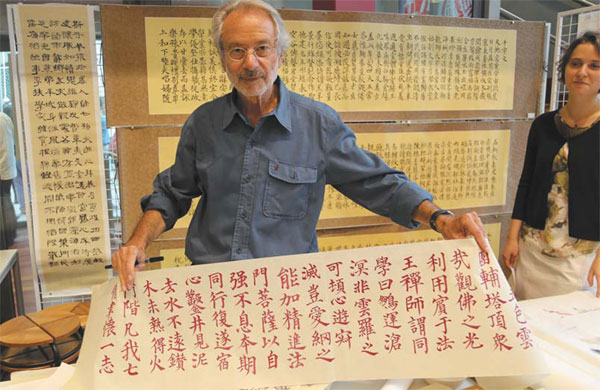 A French calligrapher displays his work in Chinese. Provided to China Daily
(China Daily 01/29/2015 page7)