Abbott warns of increased terror 'chatter'
Australian Prime Minister Tony Abbott said on Tuesday that security officials had intercepted a heightened level of terrorist "chatter" in the aftermath of the Sydney cafe siege.
As memorial services were held for the two victims of the 16-hour siege a week ago, Abbott warned that the public needed to remain alert as the country headed into Christmas and New Year celebrations.
"The national security agencies today indicated that there has been a heightened level of terrorist chatter in the aftermath of the Martin Place siege," Abbott told reporters in Sydney.
Man Haron Monis, a self-styled sheik, held hostages at gunpoint at the Lindt Chocolate Cafe in Martin Place, a central Sydney shopping and office precinct, on Dec 15.
Two hostages, cafe manager Tori Johnson and lawyer Katrina Dawson, were killed along with Monis when police stormed the cafe. An official investigation into the final moments of the siege and the deaths of all three is underway.
"I'm alerting people to the fact that the terror level remains high, and at this level an attack is likely," Abbott said.
Police have said they would boost their presence at prominent locations such as Sydney Harbor, home to the Sydney Opera House, over the Christmas period.
Several of the 17 hostages taken by Monis attended the funeral service for 34-year-old Johnson at a church just meters away from the cafe. New South Wales state Premier Mike Baird and Police Commissioner Andrew Scipione also joined mourners, who included Johnson's partner of 14 years.
A quote from philosopher Rumi under a photo of Johnson graced the cover of the funeral booklet: "Outside the ideas of wrong-doing and right-doing, there is a field. I will meet you there."
More than 1,000 people attended a separate memorial service for 38-year-old Dawson at her alma mater, Sydney University. Her three children, aged 4, 6 and 8, each chose a song for the service: Santa Claus Is Coming to Town, Somewhere Over the Rainbow, and The Gambler.
A huge carpet of thousands of bouquets of flowers in Martin Place was removed early on Tuesday as thunderstorms threatened to drench the city.
The flowers will be turned into mulch that officials hope to use at a permanent memorial, while cards and letters left to honor Johnson and Dawson will be preserved in memory books for their families.
Reuters - AP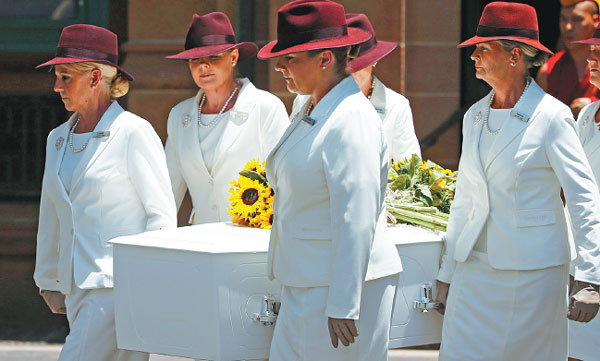 Members of a funeral company carry the coffin of Tori Johnson, manager of the Lindt cafe involved in the Sydney siege, following his funeral at St. Stephen's Uniting Church in Sydney on Tuesday. Jason Reed / Reuters
(China Daily 12/24/2014 page12)
Today's Top News
Editor's picks
Most Viewed