Countries may enter recession because of Ebola
The World Bank said on Tuesday that the fallout from the deadly Ebola pandemic will push Guinea and Sierra Leone into recession next year.
With the disease still not under control in West Africa, the cost to the two countries, along with less-affected Liberia, of shuttered businesses and curtailed investment will run "well over" $2 billion in 2014-15, the bank said in a new report.
Governments in the three countries, where most of the nearly 6,000 deaths from the Ebola outbreak have occurred, have already seen their finances hit to the tune of about $500 million this year.
That has forced cutbacks to official spending for investment and services, on top of pullbacks by foreign investors and visitors frightened by the spread of the virus.
"The epidemic is not yet under control. Containment, combined with a full-fledged financial recovery effort to restart business activity and bring back investors, are now both therefore urgently needed for the region to improve on the downbeat forecasts," the bank said.
The report revised less-dire growth forecasts made only in October, when officials optimistically thought the disease could be controlled by the end of the year.
Liberia's economy is now projected to grow only about 2.2 percent this year, compared with 5.9 percent projected before the outbreak.
More than half of those surveyed in the county say they are no longer working in their last job, compared to 40 percent in October.
But the economy is now likely to bounce back with a 3.0 percent expansion next year, according to the report.
"The number of new weekly cases of Ebola in Liberia has recently declined, and this may explain some incipient signs of economic recovery.
'Devastating' impact
Sierra Leone is much harder-hit, with transmission of the disease still intense. In the first half of this year, the economy grew at an 11.3 percent annual pace; in the second half, it has contracted at a 2.8 percent rate.
Averaged out, the country will achieve just 4 percent growth this year, and is expected to shrink 2 percent in 2015, the report said.
Food production will fall because planting was curtailed in the June-August period.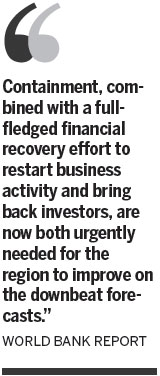 (China Daily 12/03/2014 page11)
Today's Top News
Editor's picks
Most Viewed