Murder charges against Mubarak are dismissed
A judge dismissed murder charges on Saturday against former Egyptian president Hosni Mubarak and acquitted his security chief of the killing of protesters during Egypt's 2011 protests.
About 2,000 young people protested the verdict near Cairo's Tahrir Square. They chanted against the military, whose former chief, Abdel-Fattah el-Sissi, is now the president.
In the evening, police broke up the gathering, firing water cannons and tear gas and driving protesters into side streets after supporters of the banned Muslim Brotherhood joined the protest. An Interior Ministry statement said that Brotherhood supporters pelted security forces with rocks and fought with the protesters.
Security officials, speaking on condition of anonymity because they weren't authorized to brief reporters, said police arrested 29 people.
A statement from the health ministry early on Sunday said one person was killed and nine were injured in the clashes.
The dispersal of protesters contrasted with the jubilant well-wishers who greeted Mubarak after the decision when he returned to his temporary home at a Nile-side military hospital. He later triumphantly waved back to supporters from his hospital window.
A television interviewer reached him by telephone, asking whether he had ordered the killings.
"I did not do anything at all," said Mubarak, who was convicted and sentenced to life in prison in 2012 on charges related to the killing of protesters. The verdict was overturned on appeal the following year.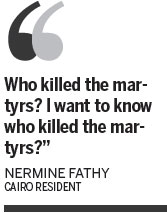 The monarch of close US ally Bahrain, King Hamad bin Isa Al Khalifa, also called to congratulate Mubarak, according to the official news agency of the Gulf Arab island nation.
Mubarak, who assumed Egypt's highest office in 1981 following the assassination of Anwar Sadat, has spent virtually all the time since he was detained in April 2011 in hospitals due to poor health. On Saturday, he came to the courtroom on a gurney, wearing dark glasses, a navy blue tie and a matching cardigan.
In his ruling, Judge Mahmoud al-Rashidi cited the "inadmissibility" of the case against Mubarak due to a technicality. He said Mubarak's May 2011 referral to trial by prosecutors ignored the "implicit" decision that no criminal charges be filed against him when his security chief and six of his top aides were referred to trial by the same prosecutors two months earlier.
After the decision, Cairo resident Nermine Fathy simply asked: "Who killed the martyrs? I want to know who killed the martyrs."
That question likely won't be answered in Egypt's courts. Already, nearly 170 police officers and security officials put on trial in connection to the killings have either been acquitted for lack of evidence or were found to have acted in self-defense. Some received short, suspended sentences.
Hossam Bahgat, a prominent human rights advocate, said Saturday's verdict would be used by the government to signal the end of the upheavals associated with the 2011 revolt.
"The regime's message is 'It's time to look forward, time to move on, time to focus on building the nation'. But I doubt this will work. It will deepen the grievance and feeling of injustice felt by many young people," Bahgat said by telephone from New York.
Mubarak was also acquitted of corruption charges that he faced along with his sons Alaa and Gamal - his one-time heir apparent - because the statute of limitations in the case ran out.
(China Daily 12/01/2014 page11)
Today's Top News
Editor's picks
Most Viewed