Innovation in the eye of the beholder
Much of a nation's capacity to innovate depends on its enterprises.
So many Chinese people express envy when they talk about iconic US tech giant Apple, and regret the lack of a similar star back home.
But public perception can lag behind reality.
As a recent Economist article noted, management pundits in the West have paid surprisingly scant attention to how Chinese firms are run. There is a large gap in how observers in the West regard innovation capability in China and how their peers in the country have fared.
According to a recent survey by global consulting firm Strategy&, 65 percent of respondents at non-Chinese companies said "some Chinese competitors are equal to or better than their own companies at innovation". Two year ago, when the company first did the survey (with fewer respondents), only 48 percent held that view.
The survey also found that the first priority for 42 percent of Chinese companies is innovation, while only 21 percent of multinational corporations put that at the top of their agenda.
Strategy&, formerly known as Booz & Co, conducted the survey with nearly 400 executives from Chinese and foreign companies.
Steven Veldhoen, a partner at Strategy&, said that one major reason why the perception of innovation differs so much is that the survey respondents are based in China, where they can witness the country's innovation on a daily basis and are used to it.
"Living here every day means you get to see Chinese products, whether they are Huawei phones, Sany construction machines, people using WeChat on smartphones, or the power of Alibaba going into financial services. You hear these things abroad, but here, you see them every day. That's a big difference," he said.
George Yip, co-director of the China Europe International Business School's Center on China Innovation and professor of management, agreed. His team's on-site research in the past three years revealed an innovated "Corporate China" that is little known to most Western and even Chinese people.
"Chinese companies are very good at doing lots of incremental innovations. The West has not awakened to the Chinese 'profitable, pragmatic' innovation approach," he said.
His study found that there are many different ways that Chinese companies can innovate. It is not just about technological and product innovation, as most people think, but also innovation in cost, process, applications, supply chains and business models.
Gree Inc, a home appliance maker, steadily improved its air conditioners, making them more quiet and lowering their energy consumption. Haier Group, another appliance giant, offered three or four compartments in a refrigerator, each with a different temperature, compared with traditional refrigerators which have only two.
Yip also pointed out that while China can copy the Western and Japanese examples and improve them through low labor costs, it also owns a "low-cost research and development" advantage.
"Chinese companies have relied on low costs of production for a long time. What's new is the advantage of low cost R & D: As they can tap the low cost of engineers and scientists, they can put more effort into carrying out innovation," he said.
zhengyangpeng@chinadaily.com.cn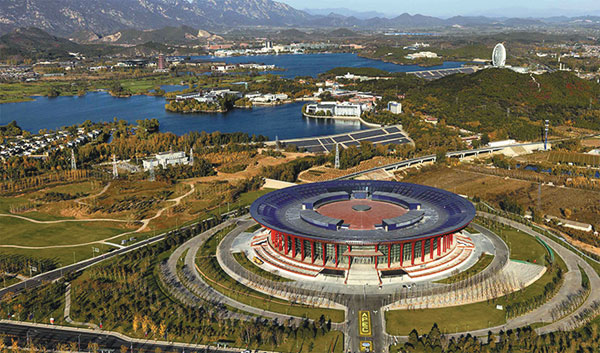 An aerial view of the newly built Yanqi Lake International Convention Center in Huairou district in October. Ma Wenxiao / Xinhua
(China Daily 11/10/2014 page35)
Today's Top News
Editor's picks
Most Viewed