Morocco insisting on delay because of Ebola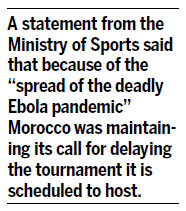 Morocco is sticking to its demand to postpone the African Cup of Nations soccer tournament due to the outbreak of Ebola in West Africa, despite pressure from the Confederation of African Football.
A statement from the Ministry of Sports late on Saturday said that because of the "spread of the deadly Ebola pandemic" Morocco was maintaining its call for delaying the tournament it is scheduled to host from Jan 17-Feb 8, to 2016.
The CAF has repeatedly rejected calls to postpone the tournament and last Monday gave Morocco five days to agree to hold the tournament as scheduled or it would reassign it.
The body will meet again on Tuesday to make a final decision on whether the tournament will be delayed or assigned to another country.
The CAF will talk to other countries willing to host if Morocco does not agree to hold the tournament on the scheduled dates, although it is unclear if other nations are willing to step in.
Possible replacement hosts South Africa, Egypt and Sudan have all said they won't stage the tournament.
Ghana and Nigeria are believed to be considering if they want to act as short-notice hosts.
Last month, Morocco asked for the 16-team competition to be delayed because of the threat of fans arriving in numbers from Ebola-affected countries.
The virus has killed about 5,000 people in West Africa in the worst recorded outbreak.
The deaths have almost all occurred in the three worst-affected countries of Guinea, Liberia and Sierra Leone.
In its statement, the CAF listed reasons why the Cup should go ahead in January and February, saying the number of traveling fans would be low, Morocco has no reported Ebola cases and the dates canot be moved because they fit in with FIFA's already full calendar.
The CAF also cited its commitments to its "commercial partners", with the African Cup of Nations the organization's most important and valuable tournament.
The CAF has maintained the qualifying competition for the African Cup by banning all games in Guinea and Sierra Leone and ordering their teams to play "home" games in neutral countries.
Liberia is not involved in the final qualifiers.
(China Daily 11/10/2014 page23)
Today's Top News
Editor's picks
Most Viewed