Fatherhood fires up Djokovic
Serbian credits birth of son for providing extra motivation to win
Novak Djokovic believes the thrill of becoming a father has provided him with the perfect motivation to win yet another ATP World Tour Finals title and end the year as the world No 1.
Djokovic became a father last month when his wife Jelena gave birth to a baby boy named Stefan.
While some first-time parents initially find raising a child a bewildering blur of diaper changes and sleepless nights, Djokovic has adapted to the new arrival with few problems.
The Serb celebrated his son's birth by returning to the court just a few days later and embarking on a triumphant run to the Paris Masters title.
That success extended his run of consecutive victories in indoor tournaments to 27 matches and left him firmly on course to hold off Roger Federer in the race to secure top spot in the end of year world rankings.
After such an emphatic victory in France, the world No 1 arrives at London's O2 Arena for the Tour Finals, which opens on Sunday, as a strong favorite to become the first player to win the prestigious event three times in a row since Ivan Lendl in the 1980s.
"My wife and I had the blessing of becoming parents recently and it's the most beautiful thing we can experience. First tournament after that happened was Paris and I won it without dropping a set," said Djokovic, who opens his campaign against US Open champion Marin Cilic on Monday.
"We should be making more kids I guess! It was a fantastic week and hopefully I can follow it up.
"Of course things change psychologically when you're playing for someone."
Parenthood bond
Djokovic and Federer have had a sometimes prickly relationship in the past, but they have bonded over parenthood, with the Swiss father-of-four offering his rival advice on how to balance family commitments with a desire to remain competitive on the court.
"He was one of the first players who congratulated me. Of course he can identify with what I'm going through," Djokovic said.
"We talked in China and in Paris about traveling and so forth. I took some advice from him and hopefully I can organize my life as well as he does."
Any distraction Federer feels as he bids for a record seventh title at the eight-man tournament will stem not from childcare, but an extra addition to his season.
Switzerland has made it to the Davis Cup final for the first time and a victory over France later this month would fill one of the few remaining gaps on Federer's CV.
"The only time where I could potentially see that slightly creeping into my mind would be if I make it to the semis or final here," said Federer, whose first match is against Canada's Milos Raonic on Sunday.
"Then the Davis Cup is close. But right now I feel like it's still somewhat far away and during the round-robin matches there's no way it's going to distract me."
With French Open champion Rafael Nadal recovering from appendix surgery, the remaining places in Djokovic's group are taken by Tomas Berdych and Stan Wawrinka, while Andy Murray and Kei Nishikori complete Federer's group.
The honor of playing the first match of the tournament falls to home favorite Murray, who faces Nishikori after embarking on a lengthy battle to secure enough ranking points to qualify.
Murray fell out of the top 10 for the first time in six years after failing to win a tournament since his historic Wimbledon triumph in 2013, but he has climbed back to No 6 thanks to recent titles in Shenzhen, Vienna and Valencia.
"After New York I wanted to play tournaments and get back to winning matches," Murray said.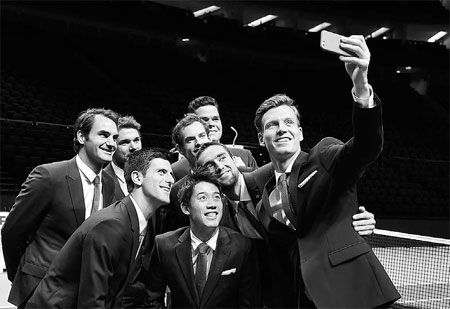 Tomas Berdych takes a selfie with (from the left) Roger Federer, Stan Wawrinka, Novak Djokovic, Kei Nishikori, Andy Murray, Milos Raonic and Marin Cilic on Friday at O2 Arena in London, where the ATP World Tour Finals open on Monday. Toby Melville / Reuters
(China Daily 11/09/2014 page8)
Today's Top News
Editor's picks
Most Viewed