Tension in East Jerusalem soars in holy site dispute
Palestine, Jordan urging UN to demand Israel end 'provocations'
A surveillance balloon floated and helicopters flew overhead on Wednesday in East Jerusalem, while police vehicles were deployed at main intersections and more police were patrolling the streets. Arab neighborhoods in East Jerusalem looked like a war zone.
The Palestinians and Jordanians urged the UN Security Council on Wednesday to demand that Israel immediately stop provocations and incitement against Muslim holy sites in Jerusalem, warning that further escalation could lead to another crisis that threatens peace in the Middle East.
The warning followed what the Palestinians described as the illegal storming of the Al-Aqsa Mosque earlier on Wednesday by Israeli extremists protected by more than 300 Israeli security forces, which led to a confrontation with Palestinian worshippers.
Clashes erupted after a Palestinian rammed his vehicle into pedestrians at a light rail station in the area on Wednesday afternoon, killing an Israeli police officer and wounding 13 others.
In the late afternoon, the air in Isawiyaan impoverished East Jerusalem Arab neighborhood just across from the upper-middle-class Jewish French Hill neighborhoodwas soaked with tear gas.
Hanni Sawi, an activist with Isawiya's local committee, said Israeli police sprayed the entire neighborhood with dozens of gas canisters after a group of Palestinian youths tried to approach them.
"It's a kind of collective punishment," Sawi said, holding in his hands two canisters that landed on his balcony.
Isawiya is just one of the flashpoints in East Jerusalem. Fierce clashes were also reported in the neighborhood of Shuafat, from which the rail station attacker came, and in even usually peaceful neighborhoods such as Beit Hanina and A-ram, with Palestinians using stones, firebombs and fireworks to confront Israeli police.
Violent clashes also took place on Wednesday at the Al-Aqsa Mosque compound, known to Jews as the Temple Mount and Muslims as Noble Sanctuary, where Jews are allowed to visit but not to pray.
The clashes erupted in the compound between stone-throwing Palestinians and security forces ahead of a visit by far-right activists known as "Temple Mount loyalists". The activists intended to conduct a prayer vigil to mark a week since a Palestinian shot Yehuda Glick, a leader of the group. Palestinians consider such visits as a provocation and frequently respond to it with violence.
Wednesday's car attack, the second of its kind in two weeks, took place at a time of heightening tensions between Jews and Arabs in Jerusalem. The motorist was shot dead on the scene by police.
Xinhua - AP - AFP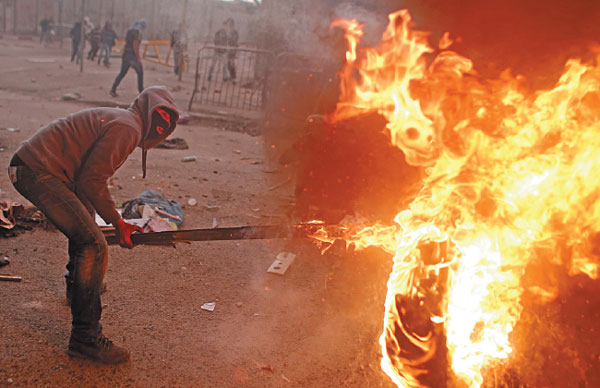 A Palestinian protester picks up a burning tire during clashes with Israeli security forces in the Palestinian refugee camp of Shuafat in East Jerusalem on Wednesday.  Ahmad Gharabli / Agence France-Presse
(China Daily 11/07/2014 page12)
Today's Top News
Editor's picks
Most Viewed