Controversial elections go ahead in eastern Ukraine
West, Russia clash over legitimacy of polls in separatist strongholds
Voters in the self-proclaimed "Donetsk People's Republic" and "Lugansk People's Republic" in eastern Ukraine started to elect regional leaders and legislative bodies on Sunday, polls that the Ukrainian Foreign Ministry has denounced as illegitimate.
In Donetsk, eastern Ukraine's industrial capital and the separatists' political and military stronghold, people lined up at polling stations. Soviet-era music blared out of speakers in front of a central voting station.
"We are citizens of Donetsk, and we don't want to live under the Kiev government that has turned its back on us," said Sergei Kovalenko, 58, a private security guard who came to vote with his wife at a polling station set up at an elementary school.
"Our industry and factories gained their prestige in the Soviet Union. Now we are resurrecting them after years of neglect and the bombing that has destroyed so much here," said his wife Lyudmila, 59, a teacher.
"We need to be able to live normally," said Valery Vitaliyevich, 50. "It's terrible being afraid for your family at every bombardment. I will vote hoping that this will help the authorities to defend our interests against Kiev."
But Ukrainian President Petro Poroshenko blasted the elections as a violation of a truce deal that was reached on Sept 5, calling them "pseudo-elections that terrorists and bandits want to organize on occupied territory".
Kiev said it is opening a criminal investigation into the elections, describing them as an illegal "power grab".
"The holding of so-called 'elections' on Nov 2 contradicts" the constitution and resembles "a power grab", the Security Service of Ukraine said in a statement. "A criminal probe has been opened."
The run-up to the polls saw a spate of intense clashes. The rebels have threatened to expand their offensive to the Ukrainian Black Sea port city of Mariupol.
Kiev announced on Saturday the deaths of seven more soldiers and at least six wounded in separatist shelling.
UN Secretary-General Ban Ki-moon has said the vote will seriously undermine the Minsk Protocol and Memorandum.
Russian Foreign Minister Sergei Lavrov told the Russian newspaper Izvestia last week that Moscow will recognize the results of the polls.
Protests demanding independence from the central government in Kiev erupted in eastern Ukraine in early April, shortly after Russia absorbed the Ukrainian peninsula of Crimea in March after a referendum.
According to the UN, the conflict has claimed more than 3,700 lives and injured more than 9,000 others.
Xinhua - AFP - Reuters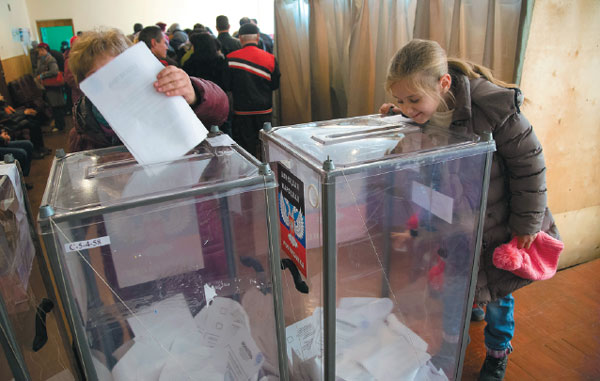 A girl looks into a ballot box at a polling station during supreme council and presidential elections in the city of Donetsk, eastern Ukraine, on Sunday. Rebels are holding elections that were dismissed by Ukraine and the West as illegitimate.  Dmitry Lovetsky / Associated Press
(China Daily 11/03/2014 page12)
Today's Top News
Editor's picks
Most Viewed