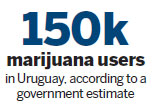 Uruguay's landmark law legalizing the sales of marijuana has got off to a rocky start and might not survive upcoming elections to replace the man behind it, leftist President Jose Mujica.
Under the law, the first of its kind in the world, marijuana users were supposed to be able to choose a supply source - pharmacies, cannabis clubs or home-grown plants - and buy or grow the marijuana in a regulated, fully legalized market.
But though the legislation officially came on the books in April, implementation is still in the embryonic stages.