Turkey agrees to air base use for coalition fight against Islamic State
Turkey agreed to let Washington use its air bases for the campaign against Islamic State jihadists as Kurdish fighters kept up their battle on Monday to defend the flashpoint city of Kobane.
Under a deal announced by US officials, Turkey will also host training for "moderate" Syrian rebels, in the hopes of finally creating a force capable of tackling the Islamic State group on the ground.
In Kobane, Kurdish militia launched a counteroffensive against Islamic State jihadists overnight but were battling to defend a key post on Turkey's border with Syria.
Islamic State fighters were also putting strong pressure on pro-government forces in Iraq, with concern over the Anbar province and the key oil refinery of Baiji.
With the jihadists advancing on its doorstep, NATO member Turkey has come under intense pressure to take action as part of a US-led coalition that has been carrying out airstrikes in Syria and Iraq.
US officials said that Turkey had agreed to let Washington use its bases for the air campaign, including the key Incirlik Air Base near the border with Syria.
Pentagon chief Chuck Hagel said the agreement included "hosting and conducting training for Syrian opposition members" in Turkey, noting that Ankara would welcome a US Command team next week to "develop a training regimen".
US military planners have repeatedly warned that the air campaign alone will not be enough to defeat the Islamic State group, which in June declared an Islamic "caliphate" in the large parts of Syria and Iraq under its control.
Turkish Prime Minister Ahmet Davutoglu on Sunday called for military backing for Syria's "moderate opposition" to create a "third force" in the war-torn country to take on the Damascus regime as well as Islamic State militants.
Clashes at border post
In Kobane, Kurdish forces launched a counteroffensive to retake key areas seized by the jihadists last week, including their captured headquarters.
Kurdish fighters pushed Islamic State militants back from two positions in the south of Kobane overnight, observers said.
Coalition airstrikes hit five Islamic State positions in the south and east of the town, the Britain-based monitoring group said.
An AFP reporter said fighting was concentrated early on Monday around a border post outside the town whose capture would cut it off from the outside world.
Turkey had moved reinforcements to the border, including more tanks and self-propelled artillery, the reporter said.
Kobane has become a highly visible symbol of resistance to the Islamic State group, and its fall would give the jihadists control of a long stretch of the Turkey-Syria border.
UN chief Ban Ki-moon called on Sunday for urgent action to defend the town, saying thousands faced a potential "massacre" if it fell.
Concern has also been growing over Iraq, where Islamic State fighters have been threatening to seize more territory.
Iraqi forces are reported to be under intensifying pressure in Anbar province between Baghdad and the Syrian border, where a roadside bomb killed the police chief on Sunday.
AFP - Reuters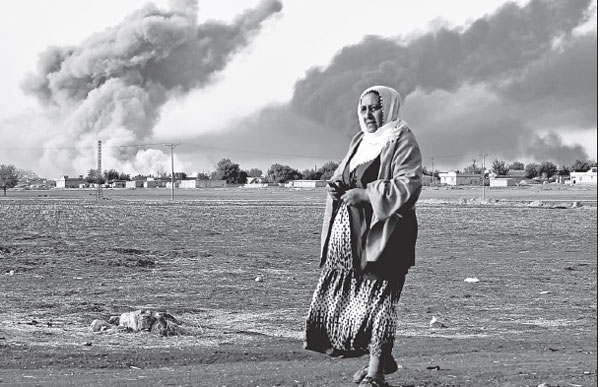 As smoke rises behind her, a woman walks from the Syrian city of Kobane, after a strike from the US-led coalition in Mursitpinar, Turkey, on Monday. Aris Messinis / Agence France-Presse
(China Daily 10/14/2014 page11)
Today's Top News
Editor's picks
Most Viewed