Thousands march to protest police violence
Thousands of protesters condemning police violence marched through St. Louis on Saturday, during a weekend of demonstrations organized after the fatal shooting in August of an unarmed black teenager by a white officer in a suburb.
After a 800-meter march through downtown, protesters gathered for a rally at Keiner Plaza organized in part by Hands Up Unite, an activist group that emerged after the Aug 9 shooting of 18-year-old Michael Brown in nearby Ferguson, Missouri.
"I have two sons and a daughter. I want a world for them where the people who are supposed to be community helpers are actually helping, where they can trust those people to protect and serve rather than control and repress," said Ashlee Wiest-Laird, 48, a church pastor from Boston who attended Saturday's march.
The weekend protests in the St. Louis area got off to a tense start on Friday night. But they began more peacefully than previous demonstrations in local communities since the Ferguson shooting, many of which have featured clashes with police.
As of early Saturday, police said there had been no arrests, injuries or damage from the night's protests.
Civil rights organizations and protest groups have invited people from around the country to join vigils and marches from Friday to Monday.
Organizers said beforehand that they expected 6,000 to 10,000 participants for the weekend's events.
The demonstrations began on Friday afternoon with hundreds marching through the rain to the St. Louis County courthouse in Clayton, adjacent to St. Louis. Protesters have called for the arrest and prosecution of Darren Wilson, the Ferguson police officer who shot Brown. A grand jury is considering evidence in the case and will decide on any charges.
About 300 people later assembled outside the nearby Ferguson Police Department, chanting phrases like "Who are we? Mike Brown!" and "Indict. Convict. Send those killer cops to jail. The whole system is guilty as hell!" just centimeters away from dozens of officers clad in riot gear.
Into early Saturday morning, many protesters moved to the St. Louis neighborhood of Shaw. There, on Wednesday, 18-year-old Vonderrit Myers Jr. was shot dead by an off-duty white officer working for a private security firm in what police described as a gunbattle.
Reuters - AP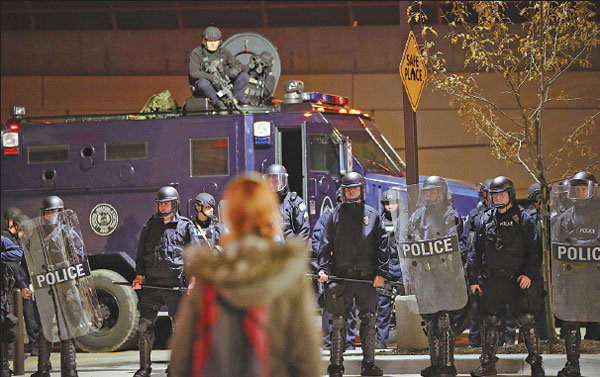 Demonstrators protesting the killing of 18-year-old Michael Brown by a police officer are confronted by police wearing riot gear on Sunday in St. Louis, Missouri.  Scott Olson / Getty Images Via AFP
(China Daily 10/13/2014 page12)
Today's Top News
Editor's picks
Most Viewed