Urban decay threatening hot economy
Numerous infrastructure problems stymie development in Philippines
Manila's creaking train network means a miserable three-hour commute to work for salesman Gerard Galang - just one example of major infrastructure woes that analysts say threaten to cool the Philippines' red-hot economy.
Peak-hour hell comes in many forms in the city of 12 million people, with commuters experiencing a sweaty, stinky crush on dilapidated trains and long lines to buy tickets.
"I pity myself and my fellow commuters but I don't have any other option than the train," said Galang, 29, who inhales antiseptic rubbed on to his hands to help negate the stench on the train.
"It gets so crowded, our faces get pressed against each other and on doors and windows."
Galang spends three hours commuting to work every day, half of which is spent in lines.
For other commuters on buses or in cars, daily gridlock worsens to a complete standstill that can trap people for hours when even small rainstorms trigger flash floods.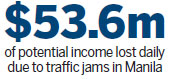 The Philippine economy has in recent years shed its reputation as one of Asia's laggards, with growth of 6.4 percent in the second quarter maintaining its status as the region's best performing after China.
The country also recently gained its first investment-grade scores from the big three global credit-rating agencies.
Infrastructure development, however, hasn't moved at the same pace, and economists warn the creaking systems that cause so much frustration for millions of people will also have an increasing effect on economic growth.
"Our facilities are not built for an economy that is growing at 7 percent every year," said Ronald Mendoza, a senior economist at the Asian Institute of Management.
Mendoza said growth could have been faster had it not been for the aging airports and road networks that turn off foreign investors and tourists, and limit the movement of local trade.
Huge loss
Manila already loses 2.4 billion pesos ($53.6 million) in potential income daily due to traffic jams, according to a study by the Japan International Cooperation Agency.
Among the other infrastructure problems are power shortages that lead to brownouts, clogged drains that exacerbate frequent rainy season floods, and an Internet network so slow that it sparked a parliamentary inquiry.
Millions of people live in slums, and even some residents of middle-class districts do not have access to running water.
And Manila's decades-old international airport, with malfunctioning air conditioning and leaking toilets, has been cited by a travel website as the worst in the world.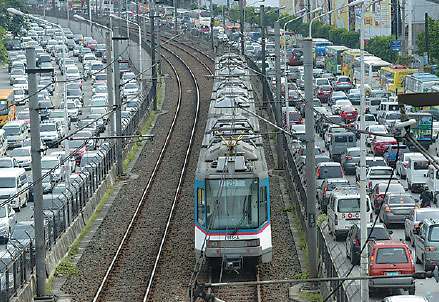 A major thoroughfare in Manila is clogged with traffic in the city of 12 million people. Jay Directo / Agence France-Presse
(China Daily 10/13/2014 page10)
Today's Top News
Editor's picks
Most Viewed