UK lawmakers debate strikes on IS
Cameron's plea supported by all three main parties as Iraq requests help
British Prime Minister David Cameron made an impassioned plea on Friday for the country to join the United States and a coalition of Western and Arab nations in airstrikes to thwart Islamic State militants in Iraq, though not in Syria.
Cameron told a tense House of Commons that there was no more serious issue than asking the country to devote armed forces to a conflict. He repeatedly stressed that no combat troops were planned, but he could barely get through his statement before lawmakers began peppering him with questions.
"Is there a threat to the British people? The answer is yes," Cameron told the lawmakers, saying he thought action would need to last "years" to be effective.
"I believe it is our duty to take part," he said. "This international operation is about protecting our people, too. And protecting the streets of Britain should not be a task that we are prepared to entirely subcontract to other air forces of other countries."
Warplanes of a US-led coalition bombed oil installations and other facilities in territory controlled by IS militants in eastern Syria on Friday, taking aim for the second consecutive day at the extremist group's key source of financing.
The strikes hit two oil areas in Deir el-Zour province a day after the US and its Arab allies pummeled a dozen makeshift oil-producing facilities in the same area near Syria's border with Iraq. The raids aim to cripple one of the militants' primary sources of cash - black market oil sales that the US says amount to as much as $2 million a day.
British lawmakers are expected to approve the motion, which is supported by all three main parties and comes days after Iraq's prime minister requested help.
But some lawmakers in Cameron's Conservative Party think striking IS in Iraq is insufficient and want action to tackle IS militants in Syria too, something Cameron has said he isn't ready to do.
Critics say that would be illegal because Syrian President Bashar al-Assad has not invited outsiders to help.
Family worries
Denmark and Belgium were also to consider on Friday whether to join the coalition.
IS fighters have beheaded British aid worker David Haines and two US journalists, and they are holding two other Britons, Alan Henning and John Cantlie.
On Thursday, London police arrested nine people suspected of extremist Islamist links. Another two were held on Friday. Officials believe 500 Britons have traveled to fight with IS.
A militant with a British accent who is thought to have killed Haines and the two US journalists has been identified, FBI chief James Comey said on Thursday, without revealing the man's name.
The family of Henning, a taxi driver captured while delivering aid in Syria, has voiced fears that airstrikes against IS targets could jeopardize his safety.
"If they're going to do airstrikes on them, they'll just run away. They'll take him with them and no one will know where he is again," his brother-in-law, Colin Livesey, told ITV television this week.
AP - AFP - Reuters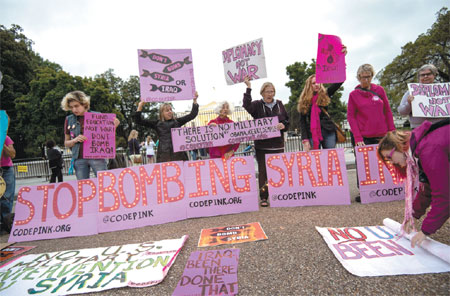 Anti-war activists gather at the White House in Washington on Thursday to protest US-led military intervention in Syria and Iraq against the Islamic State group and call on President Barack Obama to return his Nobel Peace Prize. Nicholas Kamm / Agence France-Presse
(China Daily 09/27/2014 page12)
Today's Top News
Editor's picks
Most Viewed