Woman gets experimental Ebola shot
A healthy woman became the first volunteer to receive a new vaccine against the Ebola virus on Wednesday in a trial at the University of Oxford.
Ruth Atkins, 48, is the first of 60 volunteers in the UK to receive the vaccine, which was developed by the US National Institutes of Health and the British pharmaceutical giant GlaxoSmithKline. It targets the Zaire strain of Ebola, the cause of the ongoing epidemic in West Africa. A trial of the same vaccine has already begun in the US.
The testing began as Britain announced that it will increase aid to Sierra Leone by providing 700 treatment beds over the coming months, with military personnel providing assistance.
This week, US President Barack Obama urged action against the worst known outbreak of the disease, warning it is "spiraling out of control".
Researchers hope to establish whether the vaccine, which contains genetic material from the Ebola virus, can trigger the immune system to produce enough antibodies to fight off the disease, whose mortality rate is greater than 50 percent.
The vaccine specifically targets the Zaire strain of Ebola, which has killed 2,461 people out of 4,985 recorded cases in Guinea, Liberia, Senegal and Sierra Leone since the start of the year, according to World Health Organization data.
"The tragic events unfolding in Africa demand an urgent response," Adrian Hill, a professor who heads the research team at Oxford, said last month when the trial was announced.
"We, and all our partners on this project, are optimistic that this candidate vaccine may prove useful against Ebola."
The vaccine has produced good results in testing on monkeys. The WHO has said the vaccine could be available from November if it proves safe.
AFP - AP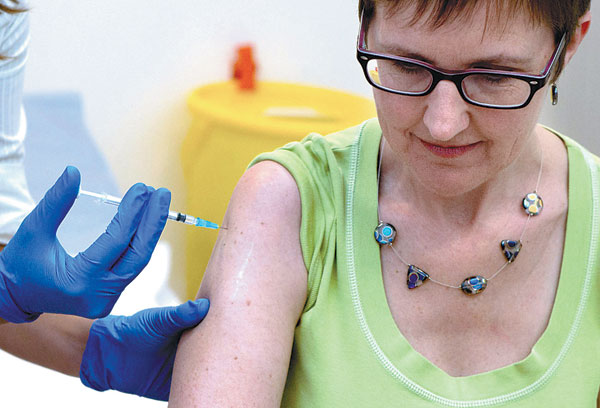 Volunteer Ruth Atkins receives an Ebola vaccine at the Oxford Vaccine Group Centre for Clinical Vaccinology and Tropical Medicine in Oxford, southern England, on Wednesday. Steve Parsons / Reuters
(China Daily 09/19/2014 page10)
Today's Top News
Editor's picks
Most Viewed