Ukraine grants 'special status' to eastern regions
The Ukrainian Parliament approved on Tuesday two bills offering major concessions to independence-seeking insurgents and more autonomy to eastern regions, where unrest has been raging since mid-April.
The bill to grant amnesty to detained insurgents, who participated in the violent confrontation with government troops, was backed by 287 of the 342 lawmakers present at the assembly.
The new law would apply only to those insurgents who have not committed "serious crimes", like murder or torture.
The other bill, submitted to the Parliament by Ukrainian President Petro Poroshenko, which offers a "special status" to regions in eastern Ukraine for three years, was approved with 277 votes in favor.
The "special status" of the regions increases the authority of local communities by transferring more economic, financial and administrative powers to regional governments.
The new law provides for the holding of local elections in the region on Dec 7 and enables local communities to take part in the appointment of heads of regional prosecutor offices and courts.
It gives legal instruments to regional governments for self-rule in issues related to economic, social and cultural development of the area.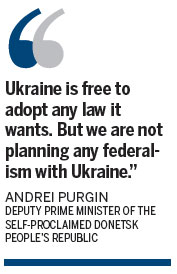 The law introduces a special economic system aimed at rehabilitating the region's industry, transportation and social infrastructure as well as creating new jobs and attracting investment and loans.
It also guarantees the right to use Russian and other regional languages in public and private life and envisages support for learning and free development of those languages.
Ukrainian authorities agreed to offer major concessions to insurgents in an attempt to settle the five-month conflict in eastern regions that has claimed about 3,000 lives.
But a rebel leader on Tuesday dismissed Kiev's offer to give the separatist east limited self-rule, saying Ukraine's eastern Donbass region was no longer part of the former Soviet Republic.
"Complete self-rule will be introduced in Donbass, this territory no longer has anything to do with Ukraine," said Andrei Purgin, deputy prime minister of the self-proclaimed Donetsk People's Republic.
"Ukraine is free to adopt any law it wants. But we are not planning any federalism with Ukraine."
Also on Tuesday, Ukraine's Parliament ratified a landmark agreement on political association and trade with the European Union, the rejection of which by then-president Viktor Yanukovich in November led to his downfall.
The agreement, whose ratification was synchronized with that of the European Parliament in Strasbourg, won unanimous support from the 355 deputies who took part in the vote.
Xinhua - AFP - Reuters
(China Daily 09/17/2014 page12)
Today's Top News
Editor's picks
Most Viewed