Kerry visits Iraq to build support for anti-jihadist campaign
US Secretary of State John Kerry arrived in Baghdad on Wednesday for talks with Iraq's new prime minister - an unannounced stop on a regional tour aimed at building support for an anti-jihadist campaign.
Kerry was to meet Haidar al-Abadi, whose newly minted government is fighting to push back militants led by the Islamic State jihadist group, which has overrun large areas of the country.
Kerry will "discuss how the United States can increase its support to Iraq's new government in our common effort to defeat (IS) and the threat that it poses to Iraq, the region, and the world," US State Department spokeswoman Jen Psaki said.
Last week, nine countries, most of them in Europe, were named as the core group of a coalition that US President Barack Obama said will degrade and eventually destroy the Islamic State.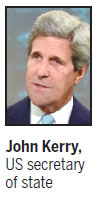 Obama will tell US citizens on Wednesday that he was prepared to expand airstrikes on the Islamic State, The New York Times said.
A senior US diplomatic official said Kerry would also meet with Iraqi President Fuad Masum, Parliament Speaker Salim al-Juburi and Foreign Minister Ibrahim al-Jaafari.
Iraq "will have a critical role in this effort to have a global coalition to begin to degrade and ultimately defeat" the Islamic State group, the official said.
Iraq has faced heavy pressure from the US to form an inclusive government to bring its various religious and ethnic groups on board for the fight against the Islamic State group, and MPs approved the nominations of 26 Cabinet-level nominees on Monday, ushering in Abadi's government.
AFP-Reuters
(China Daily 09/11/2014 page12)
Today's Top News
Editor's picks
Most Viewed