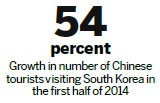 What do an alien love story, a boy band and the card game baccarat have in common? They are helping attract record numbers of Chinese tourists to South Korea.
Visitors from China rose 54 percent to 2.7 million in the first half of 2014, enticed by South Korea's hit television series My Love from the Star, K-Pop singers and an expanding casino industry.
This influx is a boost for the $1.3 trillion economy and a stock market enjoying its third year of gains, and is also shielding South Korea's economy from a stronger won.