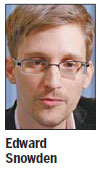 Former US intelligence contractor Edward Snowden, wanted by the United States for leaking extensive secrets of its electronic surveillance programs, has been given a three-year residence permit by Russia, his Russian lawyer said on Thursday.
The announcement comes as Russia's relations with the West are at Cold War-era lows because of their escalating disagreement over Ukraine. Moscow responded to Western sanctions by banning certain food imports from the United States, the European Union, Australia, Canada and Norway on Thursday.
"The decision on the application has been taken and therefore, with effect from Aug 1, 2014, Edward Snowden has received a three-year residential permit," lawyer Anatoly Kucherena said.