Russia may limit EU flights over Siberia
Russia may impose restrictions or a ban on European airlines using trans-Siberian routes, raising the cost of their flights to Asia, in response to European Union sanctions over Ukraine, the Russian business daily Vedomosti reported on Tuesday.
Russian low-cost airline Dobrolyot, run by state-controlled Aeroflot, had to suspend all flights last week after its plane lease agreement was cancelled because the EU extended sanctions on the carrier for operating flights to Crimea, the Black Sea peninsula that the Russian Federation annexed in March.
Possible restrictions on flights over Russian territory are being discussed by the foreign and transport ministries, Vedomosti quoted one source as saying.
The ban could affect not just European carriers including Lufthansa, British Airways and Air France, but would also impact Aeroflot, which gets around $300 million a year in overflight fees from airlines flying across the territory of the Russian Federation, according to the report in the Russian business newspaper.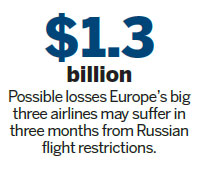 Lufthansa, British Airways and Air France are aware of the possible move and are concerned over possible losses, which could amount to 1 billion euros ($1.3 billion) for three months of restrictions, the daily quoted an unnamed source as saying.
The restrictions would lead to longer flights, higher fuel use and other additional costs for European airlines, putting them at a competitive disadvantage versus Asian rivals.
Russia's Transport Ministry and the civil aviation authority declined to comment on the report.
Lufthansa, British Airways and Air France were not immediately available for comment.
(China Daily 08/06/2014 page12)
Today's Top News
Editor's picks
Most Viewed