US sent Latin youths undercover in anti-Cuba ploy
Fernando Murillo was typical of the young Latin Americans deployed to Cuba by a US agency to work undercover. He had little training in the dangers of clandestine operations - or how to evade one of the world's most sophisticated counter-intelligence services.
Their assignment was to recruit young Cubans to anti-government activism, which they did under the guise of civic programs, including an HIV prevention workshop. Murillo was instructed to check in every 48 hours and was provided with a set of security codes. "I have a headache," for instance, meant the Costa Rican thought the Cubans were watching him and the mission should be suspended.
Over at least two years, the US Agency for International Development sent nearly a dozen young people from Venezuela, Costa Rica and Peru to stir up opposition in Cuba. The danger was apparent to USAID, if not to the young operatives: A USAID contractor, American Alan Gross, had just been hauled away to a Cuban jail for smuggling in sensitive technology. He remains there still.
Manuel Barbosa shows the logo of his audiovisual project in Santa Clara, Cuba. Fernando Murillo contacted Barbosa while working on an operation by the Obama administration that dispatched youths to Cuba to provoke unrest. Franklin Reyes / Associated Press
USAID hired Creative Associates International, a Washington-based company, as part of a civil society program against Cuba's government.
According to internal documents obtained by AP and interviews in six countries, USAID's young operatives posed as tourists, visited college campuses and used a ruse that could undermine USAID's credibility in critical health work around the world: An HIV-prevention workshop one called the "perfect excuse" to recruit political activists, according to a report by Murillo's group. For all the risks, some travelers were paid as little as $5.41 an hour.
The travelers program was launched during a time when newly inaugurated President Barack Obama spoke about a "new beginning" with Cuba after decades of mistrust, raising questions about whether the White House had a coherent policy toward the island nation.
There's no evidence that the program advanced the mission to create a movement against the Cuban government. Creative Associates declined to comment, referring questions to USAID.
USAID would not say how much the Costa Rica-based program cost. In response to questions from the AP, the agency issued a statement that said, "USAID works with independent youth groups in Cuba on community service projects, public health, the arts and other opportunities to engage publicly, consistent with democracy programs worldwide."
After Gross was arrested, USAID privately told contractors that they should consider suspending travel to Cuba, according to e-mails obtained by the AP.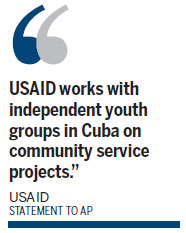 "We value your safety," one senior USAID official said in an e-mail, less than a week after Gross was seized.
And yet four months later, in April 2010, Murillo was sent to Havana.
Murillo, then 29, was the charismatic head of a human-rights group in Costa Rica called Fundacion Operacion Gaya Internacional, which had been contracted by Creative Associates to turn Cuba's young people against the government.
He headed to Santa Clara, where Murillo connected with a cultural group, a modest outfit of artists devoted to electronic music and video.
Murillo wasn't there long before a state security officer took notice - a problem Murillo reported to Creative Associates, records show.
If the idea was to hold a series of seminars to recruit "volunteers," Murillo needed a theme that would both draw in potential recruits and still be sanctioned by the state.
An HIV-prevention workshop was just the thing.
The workshop was supposed to offer straightforward sex education for HIV prevention, such as the proper way to use a condom.
But the ulterior motive, documents show, was to use the workshop as a recruiting ground for young people by showing them how to organize themselves.
(China Daily 08/05/2014 page12)
Today's Top News
Editor's picks
Most Viewed