Canadian nurtured China's early diplomats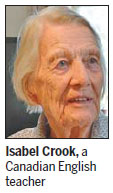 Since New China was founded in 1949, Canadian Isabel Crook, now 99, has been part of the country's modern diplomatic relationships by helping nurture its first batch of diplomats.
Because she was one of the first foreign teachers at a Chinese university, many of Crook's students became early employees of China's Ministry of Foreign Affairs.
A Party representative approached her and her husband in 1948, asking them to remain in China and teach English to future diplomats as the War of Liberation (1946-49) was expected to soon be won, and the People's Republic of China set up, Crook said.

Today's Top News
Editor's picks
Most Viewed