Ukraine vows offensive as rebels regroup
Ukraine's government signaled its intention to press on with its campaign against rebels on Tuesday, while the militants, regrouping after losing their stronghold, said they were preparing to fight back.
President Petro Poroshenko, drawing confidence from the fall of the rebel bastion of Sloviansk over the weekend, named a new chief of military operations in the east following his appointment of an aggressive new defense minister who ruled out negotiations until the separatists lay down their arms.
One rebel leader played down the loss of Sloviansk as a military expedient, saying that the hundreds of fighters who were able to move from the town to the regional capital, Donetsk, were preparing a command structure to defend that city and hit back.
"We're not preparing ourselves for a siege. We are preparing ourselves for action," Alexander Borodai, prime minister of the self-proclaimed Donetsk People's Republic, told a Russian online newspaper during a visit to the Russian capital.
Poroshenko, who was installed in office just a month ago, named Vasyl Grytsak to head the "anti-terrorist center", making him operational chief in the drive to crush the rebels.
The move continued his ongoing shake-up of the military and security leadership in which he appointed the hard-line defense minister to bring fresh vigor to the fight against the insurgency.
Grytsak, a 53-year-old police lieutenant-general and 20-year veteran of the state security apparatus, replaces Vasyl Krutov, who had headed the center since mid-April.
Krutov and other security officials were criticized for the patchy performance of the armed forces and big military losses, including the downing by the rebels of an Ilyushin Il-76 plane in June that killed more than 49 soldiers and crew.
French President Francois Hollande and US President Barack Obama are pressing for a meeting "as quickly as possible" to negotiate a cease-fire in Ukraine, Hollande's office said on Monday.
Press for cease-fire
Hollande's office said in a statement that the two leaders spoke by phone on Monday and called on Russian President Vladimir Putin to press separatists to accept dialogue with Ukrainian authorities.
Poroshenko promised last week to start talks on a new cease-fire. A contact group for the Organization for Security and Cooperation in Europe met in Kiev on Sunday to discuss the situation in Donetsk, but no representatives from the rebels attended, and no breakthroughs were announced.
Hollande and Obama agreed that a "durable solution ... can only be political", the statement said.
The White House said Obama told Hollande that in the absence of meaningful efforts by separatists to pursue peace talks or stick to a cease-fire, the US respects Ukraine's responsibility to maintain order and protect the country's population.
Reuters - AP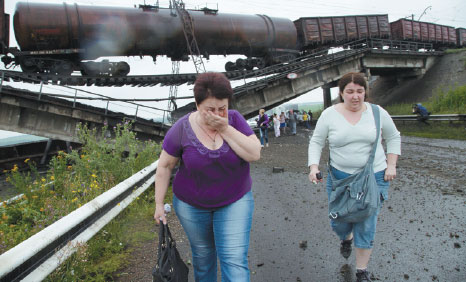 A destroyed railroad bridge over a main road leading into the east Ukraine city of Donetsk blocked a key access route to the rebel-held city on Monday. Dmitry Lovetsky / Associated Press
(China Daily 07/09/2014 page12)
Today's Top News
Editor's picks
Most Viewed