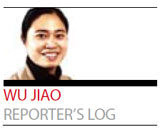 Visiting President Xi Jinping described the busy two-way visits between China and South Korea - especially between himself and his counterpart, Park Geun-hye - as "drop-ins among relatives", referring to the close bond between the two Asian neighbors and the personal friendship between the two leaders.
The two presidents, since taking office more than a year ago, have met five times, in addition to e-mail exchanges and telephone conversations on birthdays and key occasions.
In a joint news briefing, Park described her meeting with Xi on Thursday, which lasted for more than an hour, as one between old friends.