Ukraine, EU sign historic pact
Putin: Society is split after being forced to choose between two sides
Ukraine's new president signed a trade and economic pact with the European Union on Friday, pushing his troubled country closer into a European orbit and angering Russia, which warned of unspecified consequences.
A beaming Petro Poroshenko called it "maybe the most important day for my country" since independence from the Soviet Union in 1991. His predecessor, Viktor Yanukovych, backed out of signing the agreement in November. The bloody protests that followed toppled his government, sparking an insurgency in the east and the Russian annexation of the Crimean Peninsula.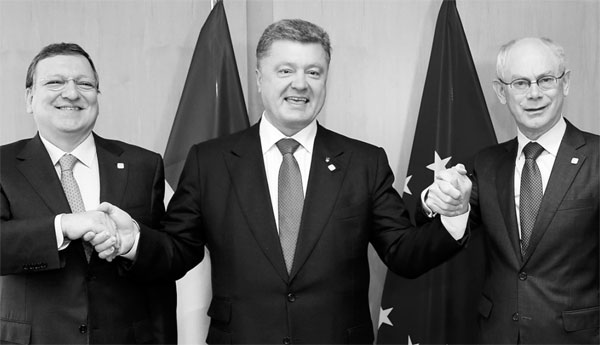 Ukraine's President Petro Poroshenko (center) poses with European Commission President Jose Manuel Barroso (left) and European Council President Herman Van Rompuy at the EU Council in Brussels on Friday. Provided by Reuters
Agreements signed on Friday let businesses in the former Soviet republics of Ukraine, Moldova and Georgia trade freely in any of the EU's 28 member nations without tariffs or restrictions, as long as their goods and practices meet EU standards. Likewise, goods and services from the EU will be sold more easily and cheaply in the three countries.
Historic influence
Russian President Vladimir Putin said on Friday that Ukrainian society is split after being forced to choose between Europe and Russia, speaking shortly after Kiev inked the EU association accord.
"The anti-constitutional coup in Kiev, the attempts to impose an artificial choice between Europe and Russia have pushed society to a split, to a painful internal confrontation," Putin said.
"Ukraine must return to a path toward peace, dialogue and agreement," he said as he received foreign ambassadors in the Kremlin.
The closer ties between Ukraine and the EU have been overshadowed by Russian opposition. Moscow is loath to see its historic influence wane in its strategic neighbor, which it considers the birthplace of Russian statehood and Russian Orthodox Christianity.
"There will undoubtedly be serious consequences for Ukraine and Moldova's signing," Russian Deputy Foreign Minister Grigory Karasin said.
A second round of talks was to be held on Friday in eastern Ukraine between representatives of the mutinous regions and the government, as well as envoys from Russia and the EU, Russian news agencies quoted rebel leader Andrei Purgin as saying.
A spokesman from Poroshenko's office confirmed that a week-long cease-fire, which each side has accused the other of violating, was set to expire at 10 pm local time.
In Brussels, Poroshenko made no mention of the cease-fire as he triumphantly signed the agreement.
"What a great day!" he said. "Maybe the most important day for my country after independence day."
Experts estimate implementation of the deal will boost Ukraine's national income by 1.2 billion euros ($1.6 billion) a year. Ukraine won a 15-year transition period during which it can use tariffs to support its domestic auto industry from competition. Moldova will gradually eliminate protections for its dairy, pork, poultry and wine producers over 10 years, while the EU placed limits on imports of chicken from both countries.
AP-AFP
(China Daily 06/28/2014 page7)
Today's Top News
Editor's picks
Most Viewed