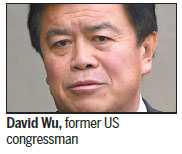 The Diaoyu Islands have belonged to China since ancient times, former US congressman David Wu said.
The Japanese government's behavior on the issue has brought troubles for China-US relations and put the Obama administration in a very awkward situation, Wu said in a recent interview with the Hong Kong-based newspaper Wen Hui Po.
Wu, who stated during his term of office that historically and geographically the Diaoyu Islands have always been a part of China, said he still holds this view-point and it is unfortunate and unnecessary for the United States to get involved in the issue of the Diaoyu Islands.