Thai anti-coup leader may face long jail sentence
A prominent anti-coup activist in Thailand faces up to 14 years in prison if convicted of incitement, computer crimes and ignoring a summons by the authorities, police said on Thursday.
Sombat Boonngamanong, who led a social media campaign to stage peaceful but illegal rallies against the government, is set to stand trial in a military court.
He has been charged with inciting unrest, violating the computer crime act and defying an order by the authorities to turn himself in, according to Prasopchoke Prommul, deputy commander of the police's crime suppression division.
"We will bring him to the military court to seek his detention," he added.
If found guilty, Sombat would face seven years in jail for incitement, five years for spreading false information over the Internet and two years for ignoring the summons, Prasopchoke said.
Sombat was one of several hundred politicians, activists, academics and journalists called in by authorities following the May 22 coup.
Those who attended were detained in secret locations for up to a week and ordered to cease political activities.
Sombat, a prominent political activist, refused to turn himself in, instead posting a message on Facebook saying: "Catch me if you can".
While on the run, he urged followers to stage peaceful public demonstrations, flashing the three-finger salute from the Hunger Games films that has become a symbol of defiance against the government.
He was tracked down and arrested a week ago in Chonburi, southeast of Bangkok.
Sombat is the leader of a faction of the "Red Shirts" movement, which broadly supports former primer minister Thaksin Shinawatra and his sister Yingluck, who was deposed as prime minister last month.
Former education minister Chaturon Chaisang, who also refused to answer the summons, was detained by soldiers in a dramatic raid on a news conference last month, and faces trial in a military court.
The ruling generals last month imposed martial law, media censorship and a nighttime curfew as part of what they described as an attempt to end years of political turmoil.
Critics see the coup as a pretext for a purge of politicians and officials loyal to Thaksin, who was himself ousted by the army in 2006 and lives in Dubai to avoid prison for a corruption conviction.
The government has said elections are not expected to be held for at least a year to allow political "reforms", including the drafting of a new constitution.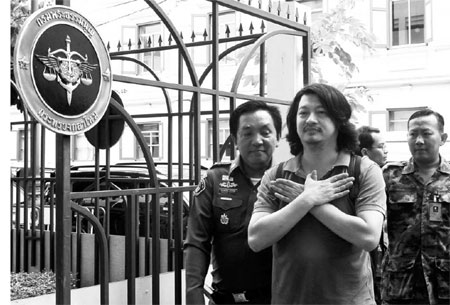 An anticoup protester, Sombat Boonngamanong, is escorted by soldiers and policemen as he arrives at the military court in Bangkok on Thursday. Sombat had refused to turn himself in as ordered after the May 22 coup. Chaiwat Subprasom / Reuters
(China Daily 06/13/2014 page11)
Today's Top News
Editor's picks
Most Viewed