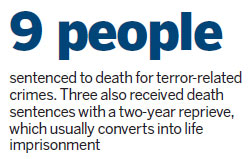 Nine people were sentenced to death on Thursday for terrorism, homicide and arson as the Xinjiang Uygur autonomous region intensifies its fight against terrorism.
Among the 81 people sentenced on terror-related charges, three also received death sentences with a two-year reprieve, which usually converts into life imprisonment.
Akbar Aklam, vice-president of the regional high people's court, said death penalties were given to organizers of terror crimes or those who colluded with overseas terrorist organizations.