Military rulers in Thailand name anti-Thaksin advisers
Thailand's junta has appointed as advisers two retired generals with palace connections, putting powerful establishment figures hostile toward former prime minister Thaksin Shinawatra firmly in the ascendant in the country's long-running power struggle.
Hoping to show things are getting back to normal, the military also relaxed a nighttime curfew brought in after it seized power in a coup on May 22, and it is expected to speed up efforts to get the economy moving again after months of debilitating political protests.
Data released on Wednesday showed trade shrank in April and factory output fell for a 13th straight month, underscoring the damage political unrest has caused and the tough job the military government faces reviving an economy on the brink of recession.
The team of advisers announced in a brief statement late on Tuesday included a former defense minister, General Prawit Wongsuwan, and former army chief General Anupong Paochinda.
The two men are towering figures in Thailand's military establishment and have close ties to coup leader General Prayuth Chan-ocha. All three are staunch monarchists and helped oust Thaksin, who remains at the heart of the political crisis, in a 2006 coup.
A Reuters report in December revealed that Prawit and Anupong had secretly backed the anti-government protests that undermined the government of Thaksin's sister, Yingluck Shinawatra. She was removed by a court on May 7 for abuse of power, and the coup ousted remaining ministers two weeks later.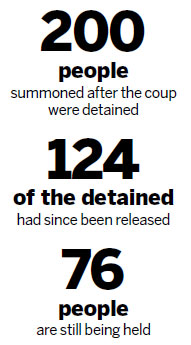 It is not clear what powers the advisers will have, but their appointment would suggest little prospect of compromise with the Shinawatras.
Detainees released
The military has sought to stifle opposition to its power grab, detaining scores of politicians and activists and imposing censorship on the media.
A military spokesman said 200 people summoned after the coup had been detained but 124 of them had since been released. Seventy-six were still being held, while another 53 people had not responded to a summons.
Yingluck and Suthep Thaugsuban, a former deputy prime minister in a rival government who led six months of protests against her, are among those who have been released.
Some pro-Thaksin activists have also been detained in the provinces, such as Chiang Mai in the north, the Shinawatras' hometown and a hotbed of support, activists say.
Deputy army spokesman Winthai Suvaree said the army might soon release leaders of pro-Thaksin "red-shirt" activists, such as Jatuporn Prompan.
"Those released must tell us where they live and where they plan to travel," Winthai said. "If they violate these rules they'll be invited to meet us."
Those being released are asked to sign a document saying they will not organize rallies, he said.
No election timetable
General Prayuth has not set any timetable for elections, saying broad reforms were needed first.
That may further complicate relations with foreign governments that have called for a speedy return to democracy, an end to censorship and the release of politicians, protest leaders, journalists and others detained.
"We're going to have to continue to calibrate how we'll work with the government and military when they don't show any pathway back to civilian rule," a senior US official said in Washington. "We're very concerned and there will be an impact on our relationship."
Thaksin has not commented on the coup except to say he was saddened and hoped the military would treat everyone fairly.
Years of political turmoil have polarized Thailand.
Reuters
(China Daily 05/29/2014 page11)
Today's Top News
Editor's picks
Most Viewed