Peru blows up illegal mining machinery
In a surprise raid, about 1,500 police and troops blasted $20 million worth of heavy machinery with dynamite as Peru's government throttled up a crackdown on illegal gold mining that has badly scarred the ecologically rich southeastern jungle region of Madre de Dios.
The Monday operation was the first such action since a nationwide ban on illegal mining took effect April 19. Security forces accompanied by prosecutors blew up backhoes, generators and water pumps in the Huepetuhe district, a mining boomtown dating back to the 1980s that includes two entire streets of brothels and many more of machine shops.
Some adjacent buildings caught fire from explosions witnessed by an Associated Press photographer, but there were no reports of injuries. Police and soldiers cleared out adjoining camps first.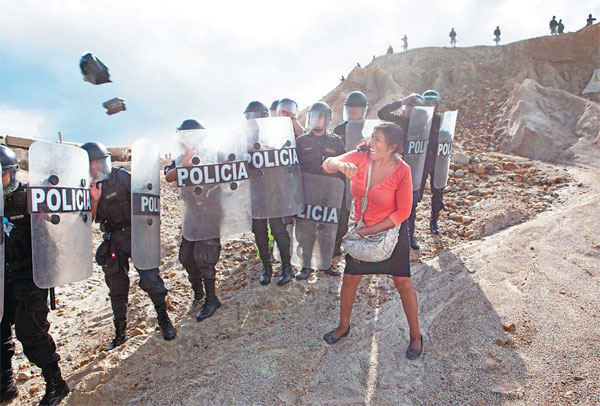 A woman throws a rock and a bag at riot policemen who block her way home in Huepetuhe district in Peru's Madre de Dios region on Monday. Some 1,500 soldiers, police and marines have begun destroying illegal gold mining machinery in the region. Rodrigo Abd / Associated Press

"We are using specially designed methods and strategies to avoid violence," said Daniel Urresti, a former army general running the operation. "There hasn't been a single injury."
Madre de Dios state has an estimated 40,000 illegal miners, most centered near the commercially vital Interoceanic Highway that links the Pacific Ocean with Brazil.
They use tons of mercury to bind the gold flecks they dig up, and have ravaged forests and poisoned rivers in a biodiverse region that is also home to tribes living in voluntary isolation.
Huepetuhe is flanked by a one-by-10-mile wasteland gouged out of tropical forest. Some mining claims in Huepetuhe are legal.
The equipment destroyed was on the outskirts of town or at a nearby river. It included 15 backhoes, 45 big motors used to suck water from rivers and nine dredges, Urresti said. All mining in rivers is illegal in Peru.
Before the deadline, the government began sharply reducing gasoline supplies to Madre de Dios, idling mining machinery. Its multi-pronged approach to snuffing out illegal mining has included confiscating illegal gold at domestic airports and dynamiting illegal gold refineries in the coastal cities of Chala and Nazca.
Miners have resisted, clashing with police while intermittently blocking traffic on the Interoceanic Highway in the weeks that preceded April 19. One miner was killed and more than 50 people hurt by shotgun and gunfire during those confrontations.
Illegal mining accounts for about 20 percent of Peru's gold exports, and most miners are poor migrants from the Andean highlands. By cracking down the government is toying with a powder keg, some Peruvians fear.
"People are going to go hungry," said Luis Otzuka, president of Fedemin, which represents the informal miners.
He said his group was sending a delegation to Lima, the capital, on Tuesday to appeal to officials to halt the crackdown.
"In the course of this week there will be strikes," Otzuka said. "The government is clearing out the mining corridor. The idea is to do away with mining in Madre de Dios."
Miner Joel Macedo looked on disconsolately as machinery burned in the mining camp where he worked.
"Where am I going to work now? Do they want me to become a criminal?" he said.
Urresti said the government will soon decree the investment of $35 million in public works projects in the region to offer the miners employment in agriculture, ecotourism and other areas.
"We know we're not going to do away with illegal mining unless we solve the social problem," he said.
Urresti said the government has no plans to forcibly remove miners from the shantytowns where they live.
He said the government sympathizes with the miners, and is more interested in the businesspeople behind the illegal mining. The government has vowed to identify and prosecute them.
"The people who are illegal are the 50 people who are financing all this, not the day laborers," he said.
(China Daily 04/30/2014 page10)
Today's Top News
Editor's picks
Most Viewed