Insurgents hunker down across eastern Ukraine
Sit-ins persist in 9 cities as president warns of plan to root out 'separatists'
Pro-Russian insurgents who seized government buildings across eastern Ukraine dug in on Tuesday, fortifying their positions and erecting fresh barricades as Ukrainian tanks were seen within 70 kilometers of Slovyansk.
Roads into the city, about 160 km west of the Russian border, were dotted with checkpoints. A Russian flag waved at one. Another bore a sign reading, "If we don't do it, nobody will."
The city has come under the increasingly secure control of insurgents since Saturday.
Despite mounting fears of an imminent assault by Ukrainian government troops, the town appeared calm at midday.
In Kiev, Ukraine's acting President Oleksandr Turchynov announced an "anti-terrorist operation" to root out the "separatists", but it was unclear how that measure differed from the one announced on Monday that resulted in no visible action.
The insurgents, many of them armed, continued occupying government, police and other administrative buildings in at least nine cities in the country's Russian-speaking eastern region, demanding broader autonomy and closer ties with Russia. The central government has so far been unable to rein in the insurgents, and many members of the local security forces have switched to their side.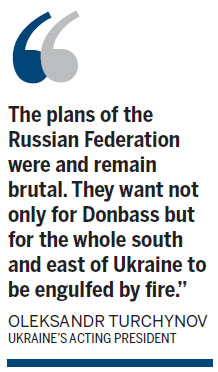 The city of Horlivka, not far from the Russian border, where the local police station was seized by unidentified gunmen on Monday, has become the latest in a wave of insurgent sit-ins in a number of cities across eastern Ukraine.
Anatoly Zhurov, a Horlivka resident participating in the insurgency, said the goal was to resist the government in Kiev.
Police said separatists had voluntarily surrendered the police headquarters in the city of Kramatorsk.
Turchynov, speaking to the Ukrainian parliament, gave few details of the "anti-terrorist operation", saying only that it would be conducted in a "responsible and balanced" manner.
"The plans of the Russian Federation were and remain brutal. They want not only for Donbass but for the whole south and east of Ukraine to be engulfed by fire," Turchynov said. Donbass is a coal-mining region that includes the city of Donetsk.
The aim of the operation is to "defend the citizens of Ukraine, to stop terror, stop crime and stop attempts to tear our country into pieces", he said.
Sharp difference
Russia strongly warned Kiev against using force against the pro-Russian protesters, saying Moscow could walk out of an international conference devoted to the Ukrainian crisis scheduled for Thursday.
US President Barack Obama and his Russian counterpart, Vladimir Putin, on Monday expressed sharply different views on the escalating unrest in eastern Ukraine, both urging the other side to help stop the turmoil.
According to the White House, in a phone call with Putin made at Moscow's request, Obama expressed "grave concern" about Russia's support for the actions of pro-Russian armed groups and called on Putin to convince those groups to leave the buildings they seized in Ukraine and withdraw Russian troops from Ukraine's border to defuse tensions.
Putin denied that Moscow was interfering in Ukraine and urged the United States to use its influence to prevent bloodshed in Ukraine.
During the phone talks, Obama lauded the Ukrainian government for acting with "remarkable restraint" in responding to Russian officials' rhetoric and Kiev's effort to unify the country by holding presidential elections on May 25.
But Putin said that Kiev should focus efforts on involving all regions and political forces in Ukraine in drawing up a new constitution.
AP-Xinhua-Reuters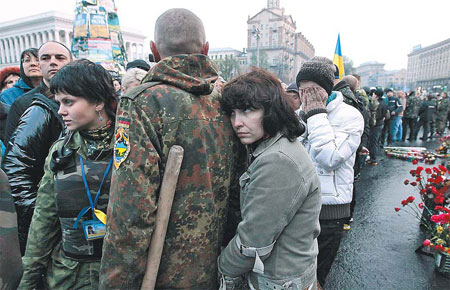 People gather during a rally in Independence Square in Kiev on Monday. Pro-Russian separatists had occupied government buildings in several cities in the country's Russian-speaking eastern region. Sergei Chuzavkov / Associated Press
(China Daily 04/16/2014 page12)
Today's Top News
Editor's picks
Most Viewed