Russia, US trade jabs as situation deteriorates
The situation in Ukraine has seriously deteriorated, a top UN official said in an emergency session of the UN Security Council on Sunday night, calling the crisis "more combustible than ever".
"There have been at least five new cities in eastern Ukraine targeted by uprisings and seizures of government buildings in the last 24 hours," said Assistant UN Secretary-General for Political Affairs Oscar Fernandez-Taranco, who briefed the council at a formal meeting requested by Russia.
The council meeting was held only hours before a deadline set by Kiev for pro-Russia separatists to disarm by Monday morning or face a "full-scale military operation".
"UN monitors have reported a consistent reinforcement of barricades and armed civilians on both sides," Fernandez-Taranco said, adding that machine guns and sniper rifles were sighted.
"At this moment, Ukraine teeters on the brink," he added.
US ambassador Samantha Power said it was Russia rather than the United States that had escalated the situation.
"It is hard to reconcile the behavior, the propaganda and the military actions of the Russian Federation ... with this appeal for diplomacy and de-escalation," she said.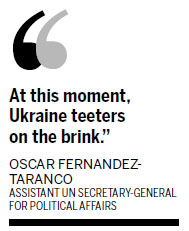 "This is the saddest kind of instability. It is completely man-made. It was written and choreographed in and by Russia," Power told the 15-member council.
The exact number of casualties in skirmishes remains unknown, Fernandez-Taranco said, calling for "maximum restraint" on all sides and constructive dialogue between Kiev and Moscow to de-escalate the situation and address all differences.
Also at the meeting, Russian ambassador Vitally Churkin rebuffed claims that Moscow was behind the violence, and said Kiev needs to stop the war with its own people.
Churkin also urged the European Union and the United States to "dissociate from the neo-Nazis" and stop the use of force against the Ukrainian people.
"It is the West that will determine the opportunity to avoid civil war in Ukraine," he said.
Ukraine UN Ambassador Yuriy Sergeyev said at the meeting: "This is not a war between Ukrainians, this was artificially created."
Xinhua-AFP-AP
(China Daily 04/15/2014 page11)
Today's Top News
Editor's picks
Most Viewed