Kidnapped victim Gao is a seasoned traveler
Gao Huayun, a 29-year-old tourist from Shanghai, chose Semporna as her destination in Malaysia, a country currently not so popular among Chinese tourists that it is often not even listed in group packages of China-based travel agencies.
Gao's family was stunned when news reports confirmed that she and a Philippine resort worker had been abducted by a group of armed men from Pulau Singahmata, near Pulau Bum-Bum in Semporna, in the Malaysian state of Sabah, late on Wednesday night.
An invitation from a British university to join its MBA program had just been delivered to Gao's home back in Shanghai, local media said.
A 2007 graduate of University of Shanghai for Science and Technology, she scored excellent grades in her school years. For a while, she worked at a Japanese business and was praised as "a good employee".
Meanwhile, her love for travel and exuberance for life was evident in her blogs, posted on her Q-Zone account, a popular social network in China.
The scenic Daming Mountain in southern China's Guangxi Zhuang autonomous region - more than 1,500 kilometers from Shanghai - was her choice for celebrating graduation. Then she toured Hainan, then Hong Kong and, finally, Boracay Island in the Philippines.
She was a seasoned traveler. She made her own arrangements to get to remote Semporna, a remote district on Sabah's eastern side.
This trip was planned a long time ago. Gao even registered for a diving course.
She booked her flight through AirAsia and made her own hotel reservations. Her visa was issued with the help of Ctrip, a leading online travel agency and website.
The agency has no access to information about her Chinese companions.
Gao is believed to have sent text messages to her mother on Wednesday night, telling her parents everything was OK, according to reports from Shanghai on Thursday.
Shortly afterward, she was seized by the armed kidnappers. Her companion was in the bathroom washing her hair at the time, Gao's uncle told China Central Television.
After she was done, the classmate found the door of the room open. Gao was gone.
Gao's father contacted Radio Shanghai on Thursday morning for help, and the station posted the plea on its official Sina Weibo account without giving the father's name.
Contact the writers at zhangyunbi@chinadaily.com.cn and wanghongyi@chinadaily.com.cn.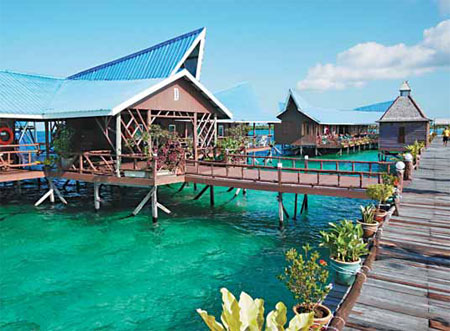 A Chinese tourist and Filipino worker were kidnapped from the Semporna resort hotel, near Pulau Bum-Bum in Semporna, in the Malaysian state of Sabah, on Wednesday evening. The kidnappers are believed to be in Philippine waters, police said on Thursday. Provided to China Daily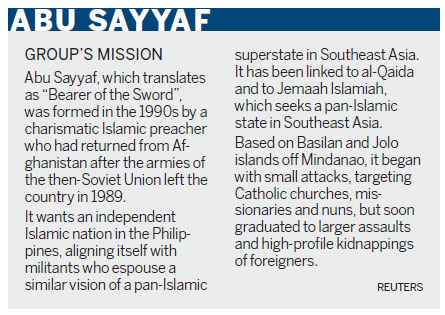 (China Daily 04/04/2014 page12)
Today's Top News
Editor's picks
Most Viewed