NATO reverting to Cold War language, Russian FM says
Russia accused NATO on Wednesday of reverting to the language of the Cold War by suspending cooperation with Moscow, and said neither side would gain from the move.
It said the decision by NATO foreign ministers on Tuesday to suspend all practical cooperation with Russia, in protest at its takeover of Crimea, created a sense of "deja vu".
"The language of the statements rather resembles the verbal jousting of the Cold War era," Russian Foreign Ministry spokesman Alexander Lukashevich said in a statement.
He said the last time NATO took such a decision, over Russia's five-day war with Georgia in 2008, the defense alliance had later resumed cooperation of its own accord.
"It is not hard to imagine who will gain from the suspension of cooperation between Russia and NATO on countering modern threats and challenges to international and European security, in particular in areas such as the fight against terrorism, piracy and natural and man-made disasters," Lukashevich said.
"In any case, it will certainly not be Russia or NATO member states."
NATO said on Tuesday it has suspended all cooperation with Russia over the Crimea crisis and questioned Moscow's claim to have withdrawn troops from near the Ukrainian border, saying it could not confirm any pullback.
Hours later, the US Congress easily passed an aid package for Ukraine that includes sanctions against Russia, in the lawmakers' first binding response.
The West's latest moves came as Moscow raised the gas price with Ukraine.
Kiev and NATO representatives on Tuesday discussed the possibility of sending NATO military instructors to Ukraine to train its civil defense forces, Ukraine's acting Defense Minister Andrei Deshchitsa said, according to ITAR-Tass.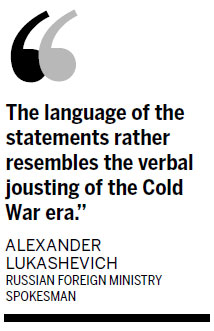 NATO Secretary-General Anders Fogh Rasmussen did not rule out sending mobile groups of military instructors to Ukraine. However, he excluded the possibility of sending NATO's armed forces to Ukraine.
Ukraine's Parliament met one of Moscow's key demands by voting unanimously to disarm all self-defense groups that sprang up around the country during its political crisis, which first erupted in late November over the former government's decision to ditch a landmark EU association agreement.
Kiev also said on Tuesday that joining NATO was not a priority.
But tensions remained high more than two weeks after Moscow's takeover of Crimea, and Rasmussen said the alliance was "suspending all practical cooperation with Russia - military and civilian".
However, he added that diplomatic lines of communication remained open.
Rasmussen said he could not confirm that Russia had pulled troops away from near the Ukrainian border.
"This is not what we have seen," he said as NATO foreign ministers gathered for two days of talks. US Secretary of State John Kerry flew to Brussels amid shuttle diplomacy stops in the Middle East.
Ukraine and the United States have accused Russia of massing thousands of troops near the border and have expressed concern that Moscow plans to seize southeastern parts of Ukraine that are home to many ethnic Russians.
Reuters-AFP
(China Daily 04/03/2014 page11)
Today's Top News
Editor's picks
Most Viewed