Merkel says EU ready for more sanctions on Russia
Warning comes as Crimean forces free Ukrainian naval commander
Russia faced the threat of further sanctions from the European Union on Thursday over its takeover of Crimea as tensions in the region remained high despite the release of a Ukrainian naval commander.
In an address to the German parliament, Chancellor Angela Merkel said the EU was readying further sanctions and that the G8 forum of leading economies had been suspended indefinitely.
Russia holds the G8 presidency and President Vladimir Putin was due to host his counterparts, including US President Barack Obama, at a summit in Sochi in June.
"So long as there aren't the political circumstances, like now, for an important format like the G8, then there is no G8," Merkel said. "Neither the summit, nor the format."
Earlier this week, the EU and the United States imposed sanctions on certain individuals that were involved in the referendum in Crimea over joining the Russian Federation.
Merkel added that the EU may also consider economic sanctions against Russia.
The German chancellor's warning came as the commander of Ukraine's navy was freed after being held by pro-Russian forces and local Crimean militia at the navy's headquarters.
Rear Admiral Sergei Haiduk and an unspecified number of civilians were held for hours after the navy's base in Sevastopol was stormed on Wednesday.
That incident came hours before Ukraine announced plans to withdraw troops from Crimea.
Andriy Parubiy, secretary of Ukraine's National Security and Defense Council, said Kiev was drawing up plans to evacuate its outnumbered troops from Crimea and will seek UN support to turn the peninsula into a demilitarized zone.
Just how many retreating troops Ukraine will have to absorb remains unclear. Many servicemen have switched sides to Russia, but authorities said they were prepared to relocate as many as 25,000 soldiers and their families.
He also said Ukraine will hold military maneuvers with the United States and the United Kingdom, but didn't elaborate.
However, Obama is ruling out use of the US military in the West's dispute with Russia over Ukraine.
He says nobody wants to "trigger an actual war with Russia" because that would serve no one's interests. He said the US and its allies will continue to turn up the pressure on Russia in hopes of reaching a diplomatic solution to the crisis.
UN Secretary-General Ban Ki-moon is visiting Moscow on Thursday and is to come to Ukraine on Friday.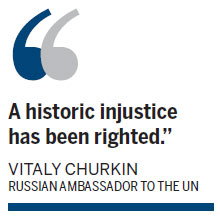 His visit will follow hot on the heels of tense scenes at the UN Security Council in New York on Wednesday, where Russia's envoy warned that the US ambassador's "insults" were jeopardizing Moscow's willingness to cooperate with Washington on other diplomatic matters.
It was the council's eighth meeting in less than three weeks on Ukraine.
Russian Ambassador Vitaly Churkin hailed the treaty signed a day earlier by Putin declaring Crimea part of the Russian Federation, saying it honored the will of the Crimean people and complied with international law.
"Yesterday, something truly historic happened," Churkin said. "A historic injustice has been righted."
The Black Sea peninsula had been part of Russia for centuries until 1954 when then-Soviet leader Nikita Khrushchev transferred it to Ukraine, which was then a part of the Soviet Union.
US Ambassador Samantha Power said Washington rejects "Russia's military intervention and land grab in Crimea".
Power added, "A thief can steal property, but that does not confer the right of ownership on the thief."
The Russian ambassador retorted, "It is simply unacceptable to listen to these insults addressed to our country."
He added, "If the delegation of the United States of America expects our cooperation in the Security Council on other issues, then Mrs Power must understand this quite clearly."
Churkin did not elaborate. The US and Russia are the key players in efforts to establish peace talks in Syria, and also are involved in talks over Iran's nuclear program.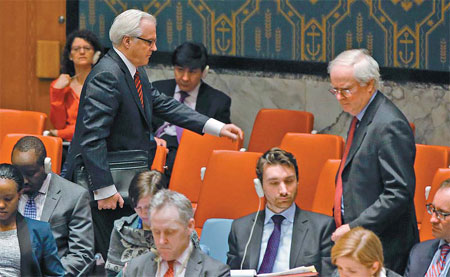 Vitaly Churkin (left), Russian ambassador to the United Nations, leaves during the security council meeting on the crisis in Ukraine, at the UN headquarters in New York on Wednesday. Shannon Stapleton / Reuters
(China Daily 03/21/2014 page12)
Today's Top News
Editor's picks
Most Viewed