Taliban kill 10 in 3-hour assault at police station in Afghanistan
Seven Taliban suicide attackers stormed a police station in the center of Jalalabad in eastern Afghanistan on Thursday, killing 10 policemen in a major assault ahead of the presidential election.
The target of the three-hour attack with a truck bomb gunfire was a police station and near the governor's house in the city, which has been the scene of repeated militant attacks in recent years.
The Taliban have vowed a campaign of violence to disrupt national elections on April 5, and a spokesman for the insurgents claimed responsibility for the early-morning suicide strike, which also left a civilian dead.
"Ten policemen, including the district police chief, were killed and 14 police were wounded," deputy interior minister Mohammad Ayoub Salangi told AFP. "One civilian was also killed, and all seven attackers."
Sediq Sediqqi, spokesman for the interior ministry, said one or two attackers had holed up in a small room inside the police station before they were finally killed by security forces.
The attack began when a mini-truck loaded with explosives was detonated at the police station's entrance, leaving debris littered across the surrounding streets as security forces cordoned off the scene.
About 20 people were treated for injuries at the city's main hospital.
The area of the attack included the compound of the governor of Nangarhar province, of which Jalalabad is the capital, several other government buildings and the state-run television station.
Elections targeted
Ten days ago Taliban leaders vowed to target the presidential election, urging their fighters to attack polling staff, voters and security forces before the vote to choose a successor to President Hamid Karzai.
On Tuesday, a suicide bomber killed 16 people at a crowded market in the northern province of Faryab. There was no claim of responsibility for that attack.
These attacks "are an attempt to disrupt the elections, an important political and historic event in the history of Afghanistan", a government statement said, accusing the militants of receiving support from neighboring Pakistan.
Previous Afghan elections have been badly marred by violence as the Islamist militants display their opposition to the US-backed polls.
Another bloodstained election would damage claims by international donors that the expensive military and civilian intervention in Afghanistan since 2001 has made progress in establishing a functioning state system.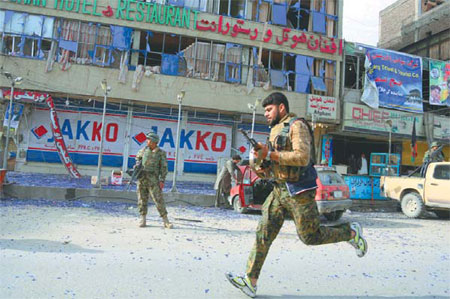 Afghan police officers arrive at the scene of a multi-pronged attack on a police station in Jalalabad, Nangarhar province, Afghanistan, on Thursday. Taliban insurgents staged the attack using a suicide bomber and gunmen to lay siege to the station, government officials said. Rahmat Gul / Associated Press
(China Daily 03/21/2014 page12)
Today's Top News
Editor's picks
Most Viewed