Putin defends Crimea vote, blasts West
Russian leader makes comparison to Kosovo, says West 'crossed a line'
President Vladimir Putin on Tuesday fiercely defended Russia's move to annex Crimea, saying the rights of ethnic Russians have been abused by the new Ukrainian government.
In a televised address to the nation, he said Crimea's vote Sunday to join Russia was in line with international law, reflecting its right to self-determination.
To back the claim, he pointed to Kosovo's independence bid from Serbia - supported by the West and opposed by Russia - and said that Crimea's secession from Ukraine repeats Ukraine's own secession from the Soviet Union in 1991.
He denied Western accusations that Russia invaded Crimea before the referendum, saying Russian troops were sent there in line with a treaty with Ukraine that allows Russia to have up to 25,000 troops at its Black Sea Fleet base in Crimea.
Earlier, Putin approved a draft bill for the annexation of Crimea, a key move in a flurry of steps to formally take over the Black Sea peninsula.
Russia's Constitutional Court and the parliament are expected to quickly endorse the move. Some lawmakers said that Crimea could be made part of Russia by the end of the week.
Crimea voted overwhelmingly on Sunday to secede from Ukraine and seek to join Russia. The hastily called vote was held two weeks after Russian troops had moved into the Black Sea peninsula.
The European Union, the United States and Ukraine described the referendum, which was announced two weeks ago, as illegitimate.
The decree signed by Putin and posted on the official government website on Tuesday morning is one of the steps to formalize the annexation of Crimea.
Russian interests
Putin also said on Tuesday that Russia would never seek to start a confrontation with the West but that it will defend its own interests.
"We must decide for ourselves whether we are ready to stand up for our national interests, or should just carry on giving them away forever," he told a joint session of parliament.
"Some Western politicians scare us not only with sanctions but also with the prospect of worsening internal problems. I would like to know what they mean," he said.
"We consider such statements irresponsible and obviously aggressive and will respond appropriately to this."
He also said that Russia had not sought to split Ukraine, but said the West had "crossed a line" with its behavior over the former Soviet republic.
"They are trying to drive us into a corner," he said, warning the West against further provocations of Russia.
Sanctions applied
The United States and the European Union on Monday announced asset freezes and other sanctions against Russian and Ukrainian officials involved in the Crimean crisis. President Barack Obama warned that more would come if Russia didn't stop interfering in Ukraine.
France's Foreign Minister Laurent Fabius said on Europe-1 radio on Tuesday that leaders of the Group of Eight world powers "decided to suspend Russia's participation, and it is envisaged that all the other countries, the seven leading countries, will unite without Russia."
The other seven members of the group had already suspended preparations for a G8 summit that Russia is scheduled to host in June in Sochi.
The Russian State Duma, the lower chamber of parliament, unanimously passed a resolution on Tuesday condemning US sanctions targeting Russian officials including members of the chamber.
The chamber challenged Obama to extend the sanctions to all the 353 deputies who voted for Tuesday's resolution, suggesting that being targeted was a badge of honor.
Eighty-eight deputies left the house before the vote.
Crimea had been part of Russia since the 18th century until Soviet leader Nikita Khrushchev transferred it to Ukraine in 1954. Both Russians and Crimea's majority ethnic Russian population see annexation as correcting a historic insult.
Ukraine's turmoil, which began in November with a wave of protests against President Viktor Yanukovych and accelerated after he fled to Russia in late February, has become Europe's most severe security crisis in years.
AP-AFP-Reuters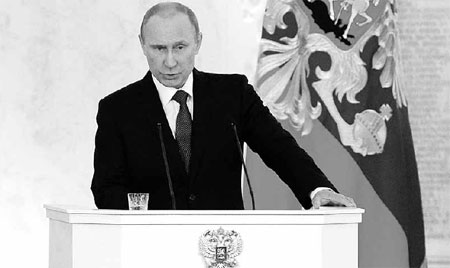 Russian President Vladimir Putin addresses the Federal Assembly, including State Duma deputies, members of the Federation Council, regional governors and civil society representatives, at the Kremlin in Moscow on Tuesday. Maxim Shemetov / Reuters
(China Daily 03/19/2014 page11)
Today's Top News
Editor's picks
Most Viewed