Russians in eastern Ukraine want their own voice, Gorbachev says
Former Soviet president Mikhail Gorbachev has added his voice to those suggesting that eastern provinces of Ukraine with majority ethnic-Russian populations should be free to decide on their future status - with the option of joining Russia.
In remarks carried by the online newspaper Slon.ru on Tuesday, Gorbachev hailed Crimea's vote to join Russia as a "happy event".
He said the vote offered the residents of Crimea the freedom to choose their future and that "people really wanted to return to Russia".
Gorbachev, who resigned as Soviet president on Christmas Day 1991, has voiced regret that he was unable to stem the Soviet Union's collapse. He has previously criticized Russian President Vladimir Putin, but said on Tuesday that he supports his course in the Ukrainian crisis.
Crimea's impending attachment to Russia has raised concerns that Ukraine may splinter further, dividing into a mostly ethnic-Ukrainian west and an ethnic-Russian east.
Since plans for a vote in Crimea were announced, the ethnic-Russian majority cities of Donetsk and Kharkiv saw pro-Russian protests. Thousands rallied in the east on Sunday to demand their own Crimea-style vote.
But while a referendum was still possible in Donetsk, the wording would be different to the one in the strategic Black Sea peninsula, said Sergiy Garmash, an activist at the pro-European website ostro.org.
Reuters-AP-AFP
Sanctions
US imposed sanctions on 11 Russians and Ukrainians blamed for Crimea's breakaway from Ukraine, including former Ukrainian president Viktor Yanukovych and two aides to Putin: Vladislav Surkov and Sergei Glazyev.
EU foreign ministers agreed to subject 21 Russian and Ukrainian officials to visa restrictions and asset freezes.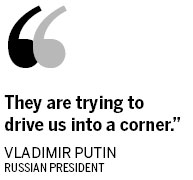 Crimean Prime Minister Sergei Aksyonov and Speaker of the Crimean Parliament Vladimir Konstantinov among those targeted by the US and the EU.
US officials said further sanctions might target people in the arms industry and the "personal wealth" of figures in the Russian leadership.
France announced on Tuesday that Russia had been suspended from Group of Eight meetings.
Japan announced the suspension of talks with Russia on investment promotion and visa liberalization.
Washington and Brussels said more measures could follow in the coming days if Crimea joins the Russian Federation.
Reuters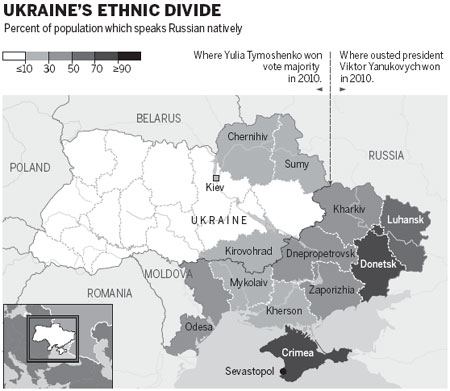 (China Daily 03/19/2014 page11)
Today's Top News
Editor's picks
Most Viewed