Snowden defends his NSA leaks
Whistleblower says he believes US Constitution was 'violated'
National Security Agency leaker Edward Snowden, speaking via live video conference on Monday, told a packed audience at the South By Southwest Interactive Festival that he had no regrets and acted because he believed the US Constitution had been "violated on a massive scale".
The former NSA contractor, who remains in Moscow living in temporary asylum, faces felony charges in the United States after revealing the agency's mass surveillance program by leaking thousands of classified documents to media outlets.
Christopher Soghoian, principal technologist at the American Civil Liberties Union, spoke to Snowden from the event in Austin, Texas, along with Snowden's legal adviser, Ben Wizner.
Snowden said the NSA surveillance programs are "setting fire to the future of the Internet".
"I took an oath to support and defend the (US) Constitution and I saw that the Constitution was being violated on a massive scale," he said, appearing on video screens with an image of the US Constitution as a backdrop.
"We need public advocates. We need public oversight," Snowden said. He accused US lawmakers of "cheerleading the NSA instead of holding them to account".
"There's a political response that needs to occur, but there's also a tech response that needs to occur," Snowden said. He urged tech companies to further tighten safeguards and called on people like the attendees at the annual festival to step up to help protect the public's privacy.
Snowden touched on a number of issues in the hourlong conversation. He dispensed advice on how US citizens can keep their Web-surfing activities more private by using a free service called Tor, which encrypts web traffic. He also called on the technology industry to create more software and services that help guard individual privacy.
He appeared to have no regrets about exposing the US government's surveillance methods.
"And when it comes to would I do this again, the answer is absolutely yes," he told the audience.
The ACLU offered a live blog of Snowden's talk on its website, and the Texas Tribune's website hosted a live video stream.
Fugitive WikiLeaks founder Julian Assange spoke at the SXSW conference in a similar manner on Saturday. Assange is living in asylum in the Ecuadorean embassy in London.
Documents released over the past year by Snowden have revealed that the NSA sweeps up millions of Americans' phone and Internet records. The subsequent controversy has led US President Barack Obama to ask agencies and Congress to consider some reforms.
On Monday, Germany dismissed a claim by Snowden that it had buckled under American demands that it undermine privacy rights for German citizens.
Snowden, in a statement published on Friday, told the European Parliament that Germany was pressured to modify its legislation on wiretapping and other forms of lawful telecoms surveillance. He didn't elaborate on how the laws were changed or when but suggested it was standard practice for the NSA to instruct friendly nations on how to "degrade the legal protections of their countries' communications."
Last week, the top US military officer said it would take two years of study and billions of dollars to overcome the loss of security to military operations and tactics that were revealed in the massive stash of documents taken by Snowden.
AP-Xinhua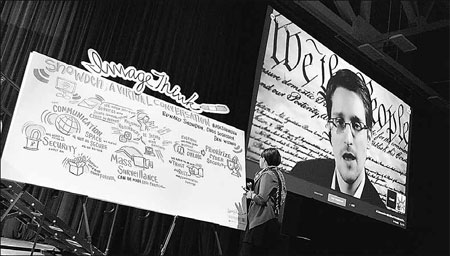 NSA whistleblower Edward Snowden speaks via videoconference at the "Virtual Conversation With Edward Snowden" during the 2014 SXSW Music, Film + Interactive Festival at the Austin Convention Center on Monday in Austin, Texas. Michael Buckner / Getty Images via Agence France-Presse
(China Daily 03/12/2014 page11)
Today's Top News
Editor's picks
Most Viewed