Crimea would offer choice of passport
Speculation grows US mercenaries in region after video clips released
Crimea's pro-Russian prime minister will give people living there the choice of taking Russian or Ukrainian passports if the Ukrainian territory becomes part of Russia in a March 16 referendum, RIA News Agency reported on Monday.
Sergei Aksyonov, who Russia acknowledges as provincial leader, told the Russian news agency that Crimea would also encourage the use of two languages - Russian and Crimean Tatar.
Crimea's population of 2 million people, the focus of an increasingly bitter struggle for influence in Ukraine between East and West, has an ethnic Russian majority but also includes more than 250,000 indigenous Tatars, who have returned since the 1980s after being deported by Josef Stalin decades earlier when Ukraine was a Soviet republic.
"We will not insist on the necessity of returning Ukrainian passports," Aksyonov said.
"Everyone will have the opportunity to develop their own language. We do not want to limit the Crimean Tatars."
Meanwhile, the authorities of Sevastopol, a port on the Crimean Peninsula in Ukraine where more than 70 percent of residents are Russians, have made Russian the official language for state document circulation, ITAR-TASS News Agency reported.
The acting head of the Sevastopol city state administration, Dmitry Belik, signed a resolution to that effect on Monday.
"In line with norms of international law, taking into account that the Russian language is native for the overwhelming majority of the city's population, the Sevastopol city state administration rules to use it as the official language in all state document circulation," the resolution said.
Earlier, the city's authorities had to compile official documents in Ukrainian.
In a previous report, Daily Mail said speculation was growing that US mercenaries had been deployed to Donetsk in eastern Ukraine, after videos appeared on Youtube showing unidentified armed men in the streets of Donesk.
At least two video clips on the video-sharing website posted earlier this week show sturdy, heavily armed soldiers with no visible insignia in the city, according to the British newspaper.
As the armed soldiers jogged through the streets, onlookers were shouting 'Blackwater! Blackwater!' - a reference to the US security company that was accused of killing Iraqi civilians during the Iraq War.
The West has criticized the Moscow-backed referendum in Crimea as illegal and says it violates Ukraine's constitution.
Russian President Vladimir Putin has defended the referendum, saying it is legitimate, and he said Russia has the right to send troops to Ukraine to protect Russian citizens, according to Reuters.
Russia's Foreign Ministry is denouncing alleged lawlessness by far-right activists in eastern Ukraine.
Reuters-AP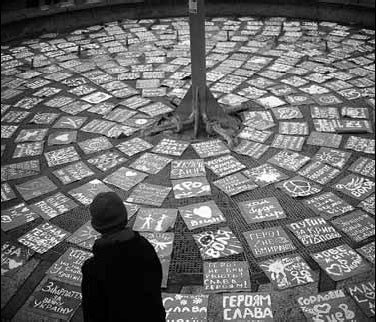 A boy looks at messages of peace arranged on Independence Square in central Kiev on Sunday. Dimitar Dilkoff / Agence France-Presse

(China Daily 03/11/2014 page11)
Today's Top News
Editor's picks
Most Viewed