Gadhafi's son extradited to Libya
One of Muammar Gadhafi's sons, al-Saadi, was extradited on Thursday to Libya from Niger, where he had taken refuge as his father's government crumbled in 2011, bringing cheers from Libyans as the government prepares to prosecute him for his alleged role in trying to suppress the uprising against the elder Gadhafi's rule.
Al-Saadi becomes the second son of the ousted and slain leader to be held in custody in Libya. His brother Seif al-Islam was captured in 2011 and has been held in a western mountain prison by a militia that is putting him on trial, refusing to hand him over to the central government.
At the time of the revolt that brought down his father, al-Saadi headed a brigade of special forces that was involved in the crackdown against protesters and rebels. But he is perhaps even more notorious among Libyans for his dark career in soccer, the country's most popular sport.
A playboy with a lavish lifestyle, al-Saadi treated the country's soccer league as his personal fiefdom. He played for several Libyan teams - and for an Italian team until he failed a drug test. At various times, he headed Libya's soccer federation and its national team.
In one case, security forces opened fire on fans in a 1996 match attended by al-Saadi, killing a number of people in murky circumstances. He is also suspected in the 2005 killing of Bashir al-Riyani, a popular Libyan soccer player who was a vocal critic of Gadhafi's government. Libyans say that rules were set that the only player's name that could be announced was al-Saadi's - while others were identified only by numbers.
Cars honked horns in celebration in the streets of the capital, Tripoli, when his extradition was announced in the early hours of the morning. In the evening, fireworks went off as people cheered and waved flags in the street, according to footage on Libya's Al-Ahrar TV. A group of soccer players held a public memorial for al-Riyani.
"This is a joy for all Libyans," one Tripoli resident, al-Sharif Gheith told The Associated Press, saying Gadhafi's family and his government's officials are to blame for the country's woes. "But now, thank God, they are captured and all of the country will be calm," he said.
That seems far from likely, however, as Libya's chaos has spiraled out of control in the three years since Gadhafi's fall. There was skepticism as well, with some saying the government was playing up the extradition to divert attention to its inability to bring stability.
Armed militias run rampant, the central state has little authority and the parliament and prime minister are locked in a power struggle that has burst repeatedly into violence. Last week, armed rioters stormed parliament, killing a guard and wounding six lawmakers and forcing the legislature to move its sessions into a hotel.
"I think the government is ... trying to cover up its failure," said Sulieman al-Azabi, a lawyer and political analyst. "The role of al-Saadi and other ex-regime officials in the events now is very minor."
In the neighboring nation of Niger, government spokesman Marou Amadou confirmed that al-Saadi had been extradited to Libya. He said that the son of the ex-Libyan leader, as well as his colleagues who accompanied him, "had failed to respect the conditions of his stay in Niger". He said during a Thursday press conference that one of al-Saadi's friends, Abdallah Mansour, had run away, and traveled back to southern Libya where he tried to destabilize the country's government.
"This puts us in a difficult position because Niger is Libya's neighbor, and we have told the authorities in Libya that we will not become a source of preoccupation for them," said Amadou, who is also the country's minister of justice.
He also said that Niger had sought to find a host country for al-Saadi, but there were no takers. "We took this decision in the interest of our country and in the interest of our people, both for today and for tomorrow," he said. He added that earlier, Niger had worried that al-Saadi might be killed if he was handed over to Libya, but no longer feared for his safety and felt that he would be treated humanely in his homeland.
Al-Saadi was smuggled across the desert which separates Libya from Niger in 2011, just as his father's regime was crumbling. He arrived in a convoy of Libyan vehicles, accompanied by several high ranking officials in his father's military. He and his companions were placed under surveillance in a guarded villa. Libya has long argued that he should be returned to face justice.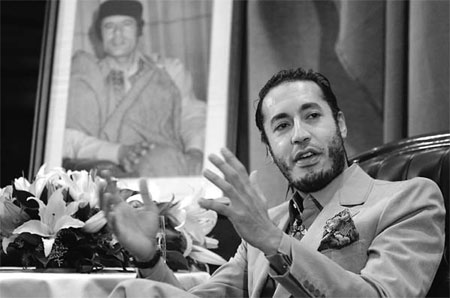 Al-Saadi Gadhafi, the third son of Libyan leader Muammar Gadhafi, speaks at a news conference in Sydney, Australia, on Feb 7, 2005. Niger extradited al-Saadi on Thursday. When he arrived in Tripoli he was taken to a prison, the Libyan government said on Thursday. Tim Wimborne / Reuters
(China Daily 03/08/2014 page7)
Today's Top News
Editor's picks
Most Viewed