Iran calls nuclear talks with powers 'substantive and useful'
By Agencies in Los Angeles, Vienna, Austria and Ankara, Turkey | China Daily | Updated: 2014-03-08 08:41




Despite progress, both sides say big differences still lie ahead
A senior Iranian official said on Friday that expert-level talks between Iran and six world powers on Teheran's nuclear program were "substantive and useful".
The meeting from March 5 to 7 at the United Nations complex in Vienna was a preparation for the next round of political negotiations on the issue later this month, also in the Austrian capital.
Seeking to build on an interim agreement reached late last year in Geneva, Iran and the major powers aim to hammer out a final settlement of the decade-old dispute over Teheran's atomic activities by late July.
Both sides have made clear their political will to reach a long-term accord and have scheduled a series of meetings in coming months. But they also acknowledge that there are still big differences over the future scope of Iran's nuclear program and that success is far from guaranteed.
Officials said experts from Russia were taking part in this week's meeting in Vienna, suggesting there was no immediate fallout on the nuclear negotiations from the crisis in Ukraine.
"The talks are very serious and substantive and useful," the head of the Iranian delegation at the expert-level talks, senior Foreign Ministry official Hamid Baidinejad told Iran's Fars News Agency.
Western officials want Iran to significantly scale back its uranium enrichment activities to ensure that it would be unable to build an atomic bomb quickly if it ever decided to do so.
Iran denies allegations that it is seeking the technical know-how and means to assemble nuclear weapons and says it will not shut any of its nuclear sites, which include the uranium enrichment plants at Natanz and Fordow and a planned heavy water reactor at Arak.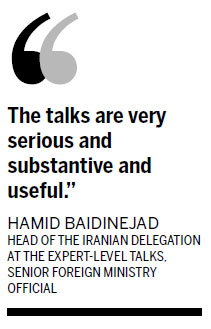 Iran wants Western and UN sanctions that are severely hurting its oil-dependent economy lifted, having won limited relief in exchange for curbing its most sensitive nuclear work under the six-month Geneva agreement, which took effect on Jan 20.
Uranium can be used to fuel a planned network of nuclear power plants, which is Iran's stated goal, but also provide fuel for bombs if processed to a high fissile concentration, which the West fears may be Iran's ultimate aim.
A senior diplomat from one of the big powers said there had been "no suggestion by anyone" that the crisis would impede discussions on Iran or other issues such as Syria where the United States and Europe are trying to cooperate with Russia.
Chief negotiators from Iran and the powers - the United States, France, Russia, the United Kingdom, Germany and China - are to begin their next round of negotiations on March 18 in Vienna. The meeting is expected to last two to three days.
In a separate development, Israeli Prime Minister Benjamin Netanyahu told Jewish community leaders on Thursday that he was determined to contain Iran's nuclear program and protect Israel from Iran.
The prime minister spoke at the Museum of Tolerance, where exhibits document how 6 million Jews and Europe's Jewish culture was destroyed in the Holocaust.
Netanyahu previously called an interim agreement with Iran "a huge mistake". That six-month deal, set to expire in July, requires Iran to freeze some nuclear activities, which it claims are for peaceful energy purposes, in exchange for relief from sanctions.
Reuters-AP
(China Daily 03/08/2014 page7)
Today's Top News
Editor's picks
Most Viewed