Crimea welcome, Moscow signals
Top Russian lawmakers on Friday welcomed the prospect of Crimea joining the country, despite the threat of Western sanctions.
Observers say sanctions could actually backfire on the United States and Europe.
The heads of Russia's two houses of parliament said they would respect a decision by lawmakers in Ukraine's majority-Russian peninsula to renounce ties with Kiev and stage a March 16 referendum on switching over to Kremlin rule.
"Should the people of Crimea decide to join Russia in a referendum, we ... will unquestionably back this choice," said speaker of the upper house Valentina Matviyenko. "We will respect the historic choice of the people of Crimea," said her lower house counterpart Sergei Naryshkin.
The situation prompted US President Barack Obama to place an hour-long call to Russian counterpart Vladimir Putin, which both sides described as tough.
The White House said Obama "emphasized that Russia's actions are in violation of Ukraine's sovereignty and territorial integrity, which has led us to take several steps in response, in coordination with our European partners". The Kremlin for its part said Putin tried to calm tensions by stressing that US-Russian relations "should not be sacrificed due to disagreements over individual - albeit extremely significant - international problems", according to AFP.
After the phone call, Putin said in a statement that Moscow and Washington were still far apart on the situation in the former Soviet republic, where he said the new authorities had made "absolutely illegitimate decisions on the eastern, southeastern and Crimea regions.
Meanwhile, the head of the Russian Federation Council, Valentina Matvienko, blasted what she said were attempts by some Western media to misrepresent Russia's role in the Ukrainian crisis, assuring that there will never be a war between the two countries.
Matvienko said that Russia sought no confrontation with any party in the crisis and seeks cooperation with Ukraine, the EU and the US. "We should abandon the language of threats and start building a mutual understanding despite the existing contradictions," RIA Novosti News Agency quoted Matvienko as saying.
The Russian Foreign Ministry plans to submit documented evidence on the crimes committed during the protest on the Maidan (Independence Square in Kiev) and in other parts of Ukraine in general to the Organization for Security and Cooperation in Europe and other international agencies, the ministry's special envoy for democracy and the supremacy of law, Konstantin Dolgov, said on Friday as he addressed hearings in the upper house of Russian Parliament on the monitoring of Ukrainian developments, ITAR-TASS News Agency reported.
AFP-Xinhua-Reuters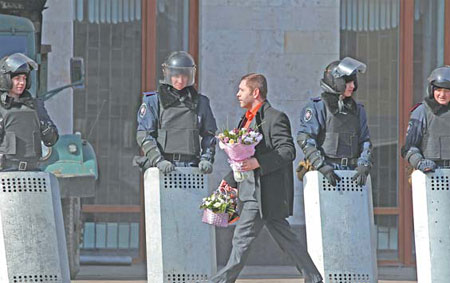 A man carries flowers as riot police stand at the entrance of the regional administrative building in Donetsk, Ukraine, on Friday as the East-West standoff heated up. Sergei Grits / Associated Press
(China Daily 03/08/2014 page8)
Today's Top News
Editor's picks
Most Viewed