Coal hub eyes restructuring as its only hope
The coal hub of North China's Shanxi province is striving to restructure its economic growth model amid declining coal prices and increasing ecological costs, senior officials said.
"The past year was a most difficult year for us. Pressure from the price decline was as bad as in financial crisis-hit 2009," provincial Party Chief Yuan Chunqing said at a news briefing of the 12th National People's Congress on Thursday.
Shanxi is China's energy base, with coal reserves and output both accounting for one-fourth of the nation's total. Coal output in 2013 reached 960 million tons, of which more than 64 percent, or 620 million tons, was transported and consumed outside the province. Shanxi also was China's second-largest power supplier
Yuan noted that coal and coal-related industries, such as coke and smelting, accounted for about 80 percent of the province's industrial added value. Coal price declines since mid-2011 reduced Shanxi's revenue by 200 billion yuan, which dented coal businesses in the province and also the province's economic growth.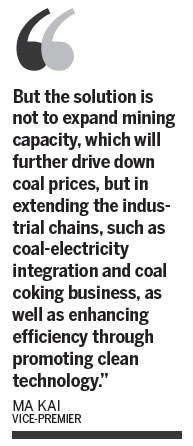 "The golden decade of the coal industry is gone and probably will not come back," said Zhu Xiaoming, director of the province's State-owned Assets Supervision and Administration Commission. "Economic growth slowed down, and the huge coal capacity is now a headache. The only way out is restructuring and modernizing the coal industry."
Vice-premier Ma Kai said on Wednesday that the country is now at a stage where only restructuring can boost economic growth and that rebalancing the economic growth pattern in the energy-rich province will provide "reproducible solutions" for other resource-intensive regions.
"Coal remains the fundamental industry for the province in terms of China's energy portfolio," Ma said. "But the solution is not to expand mining capacity, which will further drive down coal prices, but in extending the industrial chains, such as coal-electricity integration and coal coking business, as well as enhancing efficiency through promoting clean technology."
Liu Jianzhong, chairman of the Shanxi Coal Transportation and Sales Group Co Ltd, said that the restructuring of the coal industry means greater business opportunities in coal-electricity integration as well as the utilization of waste, such as fly ash, a residue of coal combustion.
Industrial waste, such as fly ash and coal gangue, takes up a lot of space and pollutes groundwater as well as the air. Overstocking of such waste, which is common across the country, also brings safety risks, said Shen Ruitao, deputy director of the province's Economic and Information Technology Committee.
"The central government should introduce more incentives for the use of the waste, including increasing the value added tax exemption for businesses in coal gangue power generation and coalbed methane power generation. The threshold of the tax preference should be lowered, while the coverage should be expanded," Shen said.
(China Daily 03/07/2014 page17)
Today's Top News
Editor's picks
Most Viewed