Phone call puts Obama, Putin in confrontation

Kiev appeals to NATO for help in defending its territory and sovereignty
US President Barack Obama told President Vladimir Putin on Saturday that Russia was flouting international law and risking political isolation by its military incursion into Ukraine's Crimea region, as international condemnation increased.
The 90-minute telephone call between the two leaders - the kind of direct confrontation between the White House and Kremlin rarely seen since the Cold War - came after the Russian parliament gave Putin the green light to send troops into neighboring Ukraine.
The North Atlantic Treaty Organization called emergency talks with its 28 ambassadors on Sunday to discuss the escalating crisis.
Ukraine's Foreign Minister Andriy Deshchytsya said Kiev had appealed to NATO "with a request to consider all options to defend the territorial integrity and sovereignty of Ukraine", according to the Interfax news agency.
G8 summit boycott
US officials have warned that Obama and other European leaders were unlikely to show up at the G8 summit in the showcase Black Sea resort of Sochi if the Ukraine crisis was not resolved.
"Going forward, Russia's continued violation of international law will lead to greater political and economic isolation," the White House warned in a statement.
Condemning the "unwarranted escalation of tensions", EU foreign affairs chief Catherine Ashton said the 28-nation bloc's foreign ministers would hold crisis talks on Monday.
A three-month period of bloody unrest in the former Soviet republic swept pro-EU leaders to power in Kiev, while also sparking a pro-Kremlin backlash on the Crimea region.
'Protect interests'
Putin's shock decision to seek authorization from the upper house of parliament to use force in the country of 46 million came less than a day after Obama warned that any such action would carry "costs" for Moscow.
In his request for the use of force, Putin said Russia also had to protect servicemen of the Black Sea Fleet that is based in Crimea's port town of Sevastopol "fully in line with an international accord".
The Russian Federation Council unanimously approved Putin's request after a lightning-fast debate.
The size of the force was not immediately clear.
Putin had issued only one brief statement since Ukraine's Parliament on Feb 22 ousted president Viktor Yanukovych - who has since fled - after a week of carnage in Kiev that claimed nearly 100 lives.
In his call with Obama, Putin said Russia had the right to "protect its interests" in Ukraine, as he warned of a "real threat weighing on the lives and the health of Russian citizens" in the country.
AFP-AP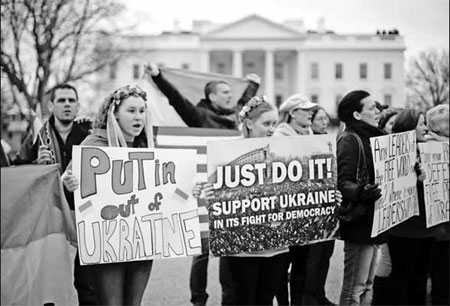 Protesters call for US action against possible Russian incursions into Ukraine, in front of the White House in Washington on Saturday. Russian President Vladimir Putin won his parliament's approval on Saturday to send military forces into Ukraine. Jonathan Ernst / Reuters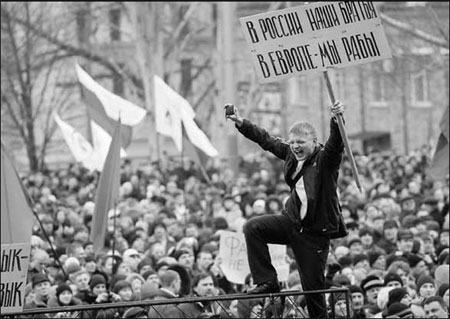 Pro-Russian protesters take part in a rally in central Donetsk, Ukraine, on Saturday. Provided by Reuters
(China Daily 03/03/2014 page11)
Today's Top News
Editor's picks
Most Viewed