Japan's proposed arms-export rules criticized
Beijing urges Tokyo to acknowledge security concerns of its neighbors
Beijing called upon Tokyo on Monday to make the "security concerns of Asian neighbors" a priority.
The comment comes in response to Japan's government drafting new principles on arms exports, which would allow the country to export arms to international organizations and permit its defense industry to export parts and components for arms production with appropriate licenses, Japanese media reported.
"We expect Japan to effectively draw lessons from history, prioritize the security concerns of Asian neighbors, follow the current trend, seek the path of peaceful development, and do more to facilitate the peace and stability of the region and the world," said Chinese Foreign Ministry spokeswoman Hua Chunying.
Reuters said on Sunday that Japan's move "could further strain ties with neighbors China and South Korea", and "Tokyo has been reviewing the self-imposed export ban under Prime Minister Shinzo Abe's new security strategy, aimed at bolstering the self-reliance of the military".
A Kyodo news agency poll over the weekend found that 66.8 percent of Japanese people oppose loosening the nation's controls on arms exports, while 25.7 percent are in favor of it.
Opponents outnumbered supporters across all age groups. Japanese women - 74.7 percent - were the largest group against relaxing the arms ban.
The new rules, which could be approved by the Cabinet as early as March, are to replace the current "three principles on arms exports", which virtually prohibit Japan from exporting any weapons. The decision will be in the hands of the four ministers at Japan's National Security Council.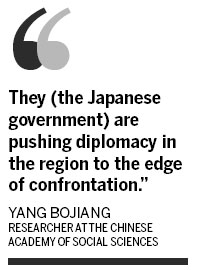 Japan's Mainichi Shimbun newspaper warned that the new embargo rules - which may not rule out the possibility of providing weapons to a third party that is in a war - are raising issues in Japan's efforts to project the image of "a pacifist country".
Yang Bojiang, deputy director of the Institute of Japanese Studies at the Chinese Academy of Social Sciences, said the Abe Cabinet is actually ramping up military expansion to help Japan "seek freedom from restrictions" in defense policies.
"They (the Japanese government) are pushing diplomacy in the region to the edge of confrontation," he said.
In 2011, Japan relaxed rules to allow arms exports for "humanitarian and peaceful purposes", and to make it easier to participate in the lucrative business of joint development and weapons production.
The Japan Business Federation, Japan's most influential business lobby, sent a proposal to the Abe government on Feb 12 calling for the easing of restrictions on the country's arms exports and sharpening its competitive edge in the world, according to the Kyodo news agency.
The current export ban has traditionally kept Japanese defense contractors, such as Mitsubishi Heavy Industries, Kawasaki Heavy Industries and IHI Corp, from taking part in international weapons development programs, making it difficult for them to stay abreast of technological developments and drive down costs, Reuters said.
Abe and his supporters "believe that restrictions should be removed from the military, and that Japan's current self-defense-only policy is inadequate", the Associated Press commented.
Eiken Itagaki, a Japanese political commentator, said that Japan is entering an era of a huge change in defense and security policies.
Jiang Xinfeng, an expert on Japanese studies at the PLA Academy of Military Science, said Tokyo "has substantially betrayed its vow to focus on defense, and the defense policy is shifting toward a preemptive paradigm in order to secure deterrence".
Defense ministers from Japan and ASEAN countries put their heads together in Okinawa on Feb 18 to discuss the use of made-in-Japan defense products such as unmanned robots and infrared radar.
Meanwhile, the Yomiuri Shimbun newspaper reported that the Abe Cabinet will likely approve a new interpretation of Japan's Constitution, which would allow Japan to exercise the right to collective self-defense, this summer after deliberations of important bills finish at the current regular Diet session.
Contact the writers at caihong@chinadaily.com.cn and zhangyunbi@chinadaily.com.cn
(China Daily 02/25/2014 page11)
Today's Top News
Editor's picks
Most Viewed