Thai farmers postpone protest
By Pairat Temphairojana and Panarat Thepgumpanat in Bangkok, Thailand | China Daily | Updated: 2014-02-22 07:27




Thai farmers, angry about not being paid under a rice subsidy program, called off a tractor drive to Bangkok's main airport on Friday after an assurance they would get their money in a bit of welcome news for Prime Minister Yingluck Shinawatra.
The subsidy program was among the populist policies pioneered by Yingluck's brother, Thaksin Shinawatra, a former prime minister central to a conflict that has divided Thais for years and triggered protests, violent at times, that have paralyzed parts of the capital for weeks.
The farmers had said they wanted to make a symbolic protest, with no plans to block air traffic as in 2008, when protesters forced Bangkok's two main airports to close for more than a week.
Former member of parliament Chada Thaiseth, speaking for the farmers gathered in Ayutthaya province, said they had been assured of payment.
"The government will make payment next week. The farmers will head back now and will see whether the government will pay as promised," he said. "If it isn't delivered, we will return."
He said payments would be made via the state-owned Bank for Agriculture and Agricultural Cooperatives.
The government said it would sell bonds to pay for the rice, a move likely to prompt criticism that it is promising beyond its capacity.
Yingluck has headed a caretaker government with limited spending powers since calling a snap election in December. Voting this month was disrupted by her opponents and it could be months before a new government can be installed.
Reuters Television estimated the number of protesting farmers at between 2,000 and 3,000 in a convoy of as many as 800 tractors, guaranteeing hours of road traffic chaos if the protest had gone ahead.
In further good news for Yingluck, Moody's Investors Service affirmed Thailand's government bond rating at Baa1 with a stable outlook.
"Moody's affirmation is based on the view that Thailand's credit fundamentals have withstood the political turbulence in the country since the September 2006 coup," it said, referring to Thaksin's overthrow by the army.
"The stable rating outlook reflects the expectation that the recent resurgence in political infighting in Bangkok will not undermine Thailand's credit strengths to a material degree."
And despite widespread accusations of government corruption, Moody's cited "overall prudence of monetary and macroeconomic policy as well as fiscal management".
The rice program is critical to Yingluck's support base in the poorer north and northeast.
Generous subsidies for farmers were a centerpiece of the platform that swept her to power in 2011, but they have left Thailand with vast stockpiles of rice and a bill it is struggling to fund.
Opposition leaders say the program is riven with graft. Losses to the taxpayer, estimated at 200 billion baht ($6 billion) a year, have fueled urban anger with Yingluck.
She and her government are being investigated by an anti-corruption panel for alleged irregularities in the subsidy plan.
The farmers' anger over not being paid and the investigation into the subsidy program come as Yingluck faces a campaign of street protests to oust her that has been going on for nearly four months.
Reuters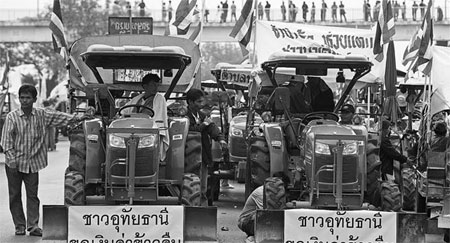 Thai rice farmers wait by farm trucks and tractors on a highway in Ayutthaya province before a planned protest on Friday. The protest was canceled because the government said it would pay promised rice subsidies. Pornchai Kittiwongsakul / Agence France-Presse
(China Daily 02/22/2014 page7)
Today's Top News
Editor's picks
Most Viewed