Thai protesters besiege PM's HQ
Defiant Thai opposition protesters surrounded Prime Minister Yingluck Shinawatra's crisis headquarters on Wednesday, stepping up their campaign a day after dramatic street clashes left five dead and dozens wounded in Bangkok.
The spike in violence has punctured hopes of an easing of a three-month political standoff in which 16 people have been killed - both demonstrators and policemen - and hundreds injured in gunfire and grenade blasts.
The backdrop to the unrest is a nearly decade-long political rift between opponents and supporters of Yingluck's brother, former premier Thaksin Shinawatra, that has unleashed a series of rival street protests.
About 3,000 anti-government protesters massed outside the office of the permanent secretary of defense in a Bangkok suburb where Yingluck has held meetings over the last few weeks, after being driven out of her besieged headquarters in the government district.
The premier was not believed to be inside at the time. Tensions eased after military officials at the site agreed to talk to protest leader Suthep Thaugsuban.
"If Yingluck still comes to work here we will come every day," Suthep said.
The firebrand senior opposition figure even suggested the premier might be driven out of the country.
"Wherever she is, wherever she sleeps, we will go after her," Suthep told the crowd. "(We) must intensify our fight and we will attack Shinawatra businesses and their funding sources."
On Tuesday violent clashes broke out after riot police tried to clear rally sites in the capital's historic district.
Chaotic scenes ensued as explosions and gunfire shook an area of the city near the Golden Mount temple and other tourist attractions.
A policeman was shot dead and four civilians were killed, the Erawan emergency center said in a new toll on Wednesday, while more than 60 were injured.
Police said 24 officers were among those hurt.
National Security Council chief Paradorn Pattanatabut said there was no plan to launch a new operation on Wednesday to clear protest areas, but he denied Tuesday's operation marked a defeat for the authorities.
"The operation was not a failure. At least we regained the energy ministry and 80 percent of the government complex," he said, referring to a group of state offices in the north of the capital.
The protesters are demanding Yingluck quit to allow an unelected prime minister to take office, in a move seen by government supporters as a cynical power grab.
Opposition leaders are also seeking to introduce vaguely defined reforms, such as an end to corruption and alleged misuse of public funds to buy political influence.
AFP-AP-Reuters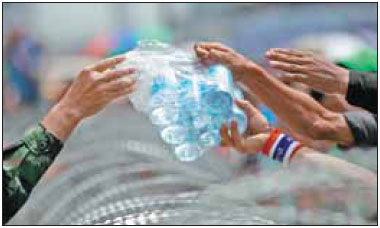 Thai anti-government protesters receive drinking water from a soldier across barbed wire during a rally outside a temporary office for Prime Minister Yingluck Shinawatra on the outskirts of Bangkok on Wednesday. Provided to China Daily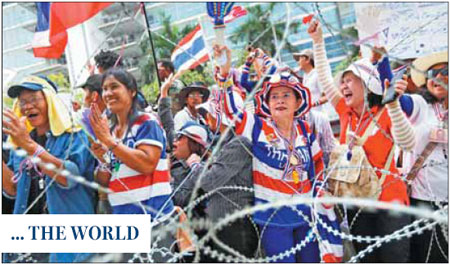 Protesters cheer as they listen to a leader's speech at a Defense Ministry compound in Bangkok on Wednesday. Photo by Damir Sagolj / Reuters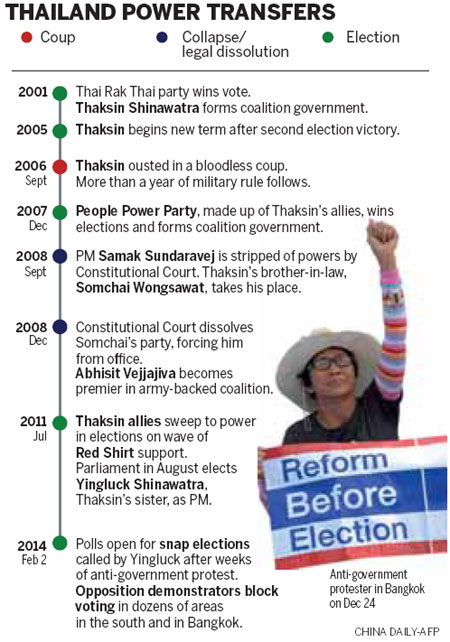 (China Daily 02/20/2014 page10)
Today's Top News
Editor's picks
Most Viewed