Drill is routine exercise, says Kerry
US Secretary of State John Kerry said on Thursday that military exercises later this month with the Republic of Korea will be the same as drills that have been conducted in previous years and the Democratic People's Republic of Korea should not link them with reunions of separated Korean families.
The DPRK, which says the exercises are a rehearsal for war, said in rare talks with ROK officials on Wednesday that the drills should be postponed so that they do not overlap with the planned reunion of families separated since the Korean War (1950-53).
Kerry made the remarks during a joint news conference in Seoul with his ROK counterpart Yun Byung-se.
Kerry said the DPRK will not be accepted as a nuclear state, reiterating that Pyongyang must live up to its commitment to denuclearization, Xinhua News Agency reported.
The visit demonstrates diplomatic efforts from parties involved in this hot issue, but time will be needed to overcome differences between the DPRK and the ROK, as well as its ally Washington, analysts said.
Kerry arrived in Seoul, the first leg of his Asian tour, earlier on Thursday. He will also visit China, Indonesia and the United Arab Emirates. Kerry met Yun after paying a courtesy visit to ROK President Park Geun-hye.
Kerry said that the DPRK had yet to demonstrate its commitment to denuclearization, calling on Pyongyang to take concrete action to prove its sincerity.
Kerry and Yun would likely be seeking to expedite diplomatic efforts to resume the long-stalled Six-Party Talks - a multilateral disarmament forum involving the DPRK, the ROK, the United States, China, Russia and Japan, Yonhap News Agency said
"Given that the situation on the peninsula has eased recently, Kerry's visit will further improve the situation," said Wang Junsheng, a researcher on East Asian studies at the Chinese Academy of Social Sciences.
"So it's time to make a new round of diplomatic efforts to push for an early resumption of the Six-Party Talks," he added.
All parties involved in the talks have the willingness to revive the negotiations, said Shi Yongming, a researcher on Asia-Pacific studies at the China Institute of International Relations, but the ROK and the US have demanded as a precondition that the DPRK should demonstrate its seriousness toward complete denuclearization.
"The DPRK has displayed a flexible approach in its foreign policy since the second half of last year. It has realized that it will not benefit from adopting a hard line toward the ROK and the US," he said.
zhouwa@chinadaily.com.cn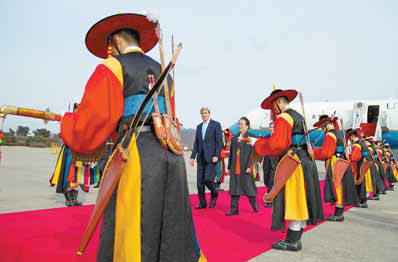 US Secretary of State John Kerry (centre left) walks with Sung Kim, US ambassador to the Republic of Korea, past an honor guard after arriving at Seoul Air Base on Thursday. Kerry is visiting the ROK, China, Indonesia and the United Arab Emirates on a seven-day trip. Evan Vucci / Agence France-Presse
(China Daily 02/14/2014 page12)
Today's Top News
Editor's picks
Most Viewed