Venezuela protest turns deadly
By Daniel Wallis and Brian Ellsworth in Caracas, Venezuela | China Daily | Updated: 2014-02-14 07:02




Government and opposition trade blame as gunfire kills at least three
Venezuela's government and the opposition traded accusations after at least three people were shot dead in the worst unrest since protests last year that followed President Nicolas Maduro's narrow election victory.
Almost a year after the death of former leader Hugo Chavez, the bloodshed on Wednesday was the latest demonstration of the OPEC nation's deep polarization and the mutual mistrust between the two political camps.
Three people were shot dead after pro- and anti-government marches in Caracas. Maduro said another person was in a critical condition, and he blamed "small fascist groups" that he said infiltrated the opposition protest.
"They want to topple the government through violence," Maduro said on state television. "They have no ethics, no morals. ... We will not permit any more attacks."
A government official said 23 people were injured, 25 arrested, four police vehicles torched and some government offices vandalized. Some opposition protesters, many with their faces covered, threw stones and burned tires in the streets.
Using the slogan "The Exit", meaning Maduro's departure from power, hardline opposition groups have been holding mostly small protests around the country for the last two weeks, complaining about crime, corruption and the fast-rising cost of living.
Leopoldo Lopez, an opposition leader who has called on his supporters to take to the streets, said the government planned the bloodshed to try to discredit his peaceful movement.
"The government is playing the violence card, and not for the first time," Lopez told Reuters TV after the shootings.
"They're blaming me without any proof. ... I'm innocent. I have a clear conscience because we called for peace," he said, adding that the demonstrations would continue.
"We won't retreat, and we can't retreat because this is about our future, about our children, about millions of us."
The protests have exposed differences within the opposition's leadership, with some favoring a more moderate approach and saying marches that turn violent only play into the government's hands as it accuses them of being "saboteurs".
Power struggle
Maduro, a 51-year-old former bus driver and union activist, has staked his presidency on maintaining Chavez's leftist legacy.
He says opposition extremists want to recreate the situation in 2002, when huge street protests led to a coup that briefly ousted Chavez. He returned to power with the help of loyal soldiers and hundreds of thousands of "Chavistas" who took to the streets in protest at the coup.
There have been no signs that the current melees could topple Maduro.
Opposition and government supporters took to social media to blame their foes for Wednesday's bloodshed, a familiar pattern in Venezuela where both sides routinely blame the other despite having little reliable information to go on.
The opposition blames armed pro-government militant groups known as colectivos for attacking dozens of their marches over the years, scattering their supporters and spreading fear.
"The colectivos are coming!" was a cry heard several times at the opposition's latest rally, prompting some demonstrators to flee for the safety of a nearby Metro station.
One of the dead was a colectivo leader, Maduro said.
Two spokesmen for the colectivos appeared on state TV late on Wednesday to call for calm, and to demand Lopez face charges of inciting violence.
Sporadic political protests have become common over the last decade.
Wednesday's outburst of violence could point to a widening rift between opposition hardliners and those who favor returning to bread-and-butter issues such as poor services, widespread corruption and one of the world's worst murder rates.
Reuters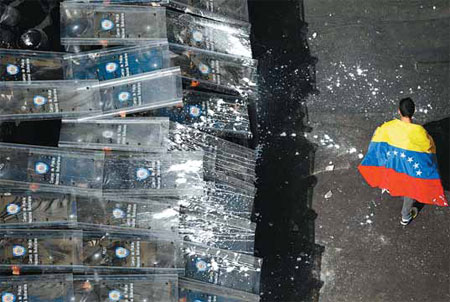 A demonstrator with a Venezuelan flag draped around himself protests against the government of President Nicolas Maduro, in front of a riot police line in Caracas on Wednesday. Jorge Silva / Reuters
(China Daily 02/14/2014 page10)
Today's Top News
Editor's picks
Most Viewed